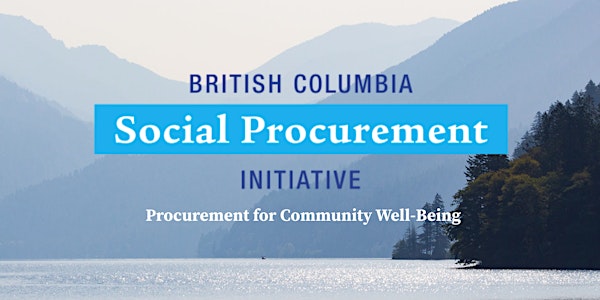 Introduction to BCSPI & Social Procurement
Learn about the British Columbia Social Procurement Initiative (BCSPI) and social procurement as an emerging best practice
About this event
Through the BC Social Procurement Initiative (BCSPI), communities and small businesses across British Columbia will benefit from an expanded social procurement program that focuses on getting the best value for every dollar spent while also reinvesting back into communities and contributing to economic recovery.
Join Rob Fisher of BCSPI and Tori Williamson of Buy Social Canada for a 30 minute info-session that will provide an introduction to BCSPI and social procurement as a concept.
The session will discuss how BCSPI, a unique regional initiative based in British Columbia, Canada, has grown in just two years from 6 to 30 members, realized over $200 million in procurement spend with added social value and seen social procurement implemented in over 50 pilot projects.
If some of these concepts are new to you, we will also explore the what, why and how of social procurement as an emerging best practice that can unlock multiple community benefits from existing government and institutional purchasing.