Description
This workshop will introduce the novice to the basics of writing letters with a chisel edge brush. Participants will learn the basic strokes and stroke sequence and direction needed to write Trajan's Formal Roman Alphabet as well as informal brush script.
Students will have extensive in class practice with manipulating the brush, forming serifs and strokes, and building finished letters. Instruction will be provided in group and one-on-one. Participants will complete one full alphabet and one broadside made with brush strokes. Participants will take home a chisel-edged brush, tempera practice paint and a workbook.
This workshop is part of a new Book Arts Workshop series being offered by The Art Legacy League in their new location at The JB Young Opportunity Center, Davenport, Iowa. The all day workshops will take place one Saturday a month through December in the new ALL classroom space, which is accessible. Participants are asked to bring a sack lunch to be eaten in the workshop space.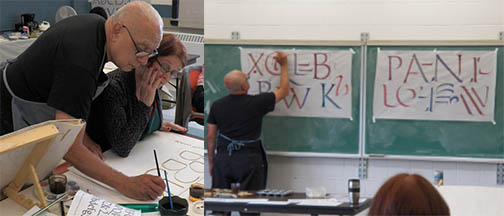 The insturctor for this workshop will be Paul Herrera. Paul met Father Edward M. Catich during his freshman year as an Art Major at St. Ambrose College in 1967. Paul says, "I mark the following year as the actual beginning of my apprenticeship as an artist with him. From that point on, he was my only craft master in the disciplines of lettering and inscription cutting. I worked as a student aid in the classes he taught at the college and at the Davenport Municipal Art Gallery. I helped with the work in his studio as often as possible and was fortunate enough to have an opportunity to travel with him to do inscription work in New York and elsewhere. I assisted at what was to be his last calligraphy seminar in Montana." Paul is an internationally recognized calligrapher, inscription cutter, and teacher. In the past he has conducted classes for all of the major international calligraphy conferences as well as for many calligraphy organizations and also at Reed College.
The non-refundable Registration Ticket price includes the $50 workshop fee + $20 materials fee + Eventbrite processing fee. If for any reason the workshop is cancelled, all fees will be refunded.
The instructor reserves the right to cancel the workshop if enough registrations are not received.