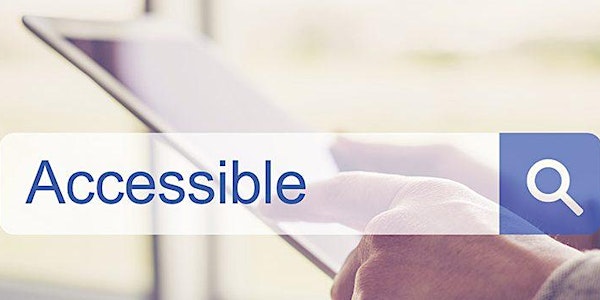 Introduction to Digital Accessibility Presentation Yarmouth, NS (Free)
Introduction to Digital Accessibility Presentation-Yarmouth, Nova Scotia (Free)
When and where
Location
Izaak Walton Killam Memorial Library Yarmouth Yarmouth, NS Canada
About this event
NOTE: Please register for the wait list. If a seat becomes free, you will be contacted by email. Allergies and accommodations may not be able to be accommodated after January 10th, 2019.
Now more than ever before digital materials and media, such as websites, documents, audio, video, apps, etc., are being used by businesses and organizations in Nova Scotia. Lowering barriers to make digital materials and media more accessible is crucial for the one in five Nova Scotians, who identify as having a disability.
As well, the Nova Scotia Accessibility Act, and its six proposed Standards, will require that almost all Nova Scotian businesses and organizations identify, and lower, barriers for people with disabilities in all areas of life and work, including the digital realm.
Lowering barriers helps the public, customers and employees gain greater access to digital materials and media, which in turn greatly benefits businesses and organizations.
Come to this free half day presentation by Access Changes Everything, where you will learn the basics on how to start lowering the barriers, with the 'why', 'what' and 'how', and get a head start on potential future legislative requirements.
What You Will Learn:
The importance and benefits of digital accessibility.
The basics of accessibility legislation in Nova Scotia and Canada.
How some people access digital materials, including a live assistive technology demonstration.
Practical tips on how to start lowering barriers, and make digital materials and media more accessible, for people with different disabilities.
Cost:
Free, and light refreshments provided. Seating is limited, and registration is required.
Register:
The registration deadline is January 10th, 2019. Please register, and note any requested accommodations, in this online form, or by phone (800) 208-1936, or email web@AccessChangesEverything.com.
If you don't see your city listed, contact Access Changes Everything, as other workshops, or a webinar, may be added.
Other cities are listed on Access Changes Everything's website.
Who Should Attend:
The presentation is geared to businesses and organizations, but everyone is welcome. No technical expertise is required, just an interest in the subject.
Presenter:
Lisa Snider is the Senior Digital Accessibility Consultant and Trainer in her company, Access Changes Everything. Since 1999, Lisa's passion in life has been to make the digital world more accessible for people with disabilities, in different North American settings and contexts.
She shares this knowledge through workshops, courses, webinars, presentations, user testing, accessibility audits, procurement consultation and remediation for a wide variety of North American organizations, governments and businesses, such as the Canadian Museum for Human Rights, National Network for Equitable Library Service, City of Winnipeg and Province of Nova Scotia.
Lisa specializes in digital accessibility, which includes: websites, documents, audio, video, email, electronic signage, social media content, apps and computers. She is a nationally recognized digital accessibility advocate, and an internationally recognized archival accessibility specialist.
Lisa was Chair of the Government of Manitoba's Accessibility for Manitobans Act, Information and Communications Standard Development Committee, was a Stakeholder in the W3C Accessibility Guidelines Working Group Silver Task Force (WCAG 2.1) and is a member of the Microsoft Office, Microsoft Windows 10 and Microsoft Mac Outlook Accessibility Groups, and the Microsoft Inclusive Workplace Customer Advisory Council, collaborating with Microsoft to improve the accessibility of their products.
More information about Lisa and her company can be found on her website, www.accesschangeseverything.com.
Thank You:
This free presentation was made possible through the support of the Province of Nova Scotia. Access Changes Everything is pleased to work in partnership with the Department of Communities, Culture and Heritage to develop and promote our cultural resources for all Nova Scotians.