Description
Are you into the science of your food? Fermentation is one of those food skills that walks the line between your grandmothers kitchen and the mad-scientist laboratory. Once you get your feet wet in this introductory workshop (don't worry, no actual feet are involved), there is no end to the fantastic concoctions you can create, put by, and enjoy throughout the year.
Humans have been fermenting food for hundreds of years. Microscopic organisms transform food to extend its usefulness. Fermentation also makes food more nutritious and tasty.
Many of your favourite foods and drinks are fermented, including bread, cheese, wine, beer, mead, cider, chocolate, coffee, tea, pickles, sauerkraut, kimchi, salami, miso, tempeh, soy sauce, vinegar, yogurt, kefir and kombucha.
Here is an example of the chemical magic that is going on in your fermented foods that you will learn to work with to create delicious treats: The chemical reaction that occurs in fermentation produces carbon dioxide. Starch from veggies is converted to simple sugars. Those sugars are then converted to alcohol (ethyl alcohol, in very small amounts) and carbon dioxide.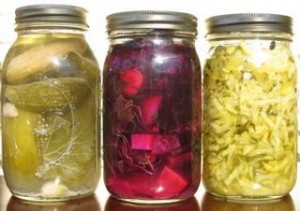 In this workshop, participants will learn about:
How fermentation works
Health benefits of fermented foods, and suggestions for incorporating ferments into your meals
Best practices for safe home fermenting
Fermenting vegetables using TWO different techniques:
Helpful tools and techniques to take your ferments to the next level
You will want to take this workshop if:
You love fermented foods and want some sage wisdom to get you started at making your own
You have some experience fermenting and are looking for a refresher and some inspiration
You enjoy learning new skills in a group environment
You want to connect with other food geeks
You will go home with:
Confidence to start a lifetime of adventure in fermenting veggies at home (safely, not like a fridge experiment)
The products of your labour: Sauerkraut and a brined veggie (yumm!)
Step-by-step hand-out to replicate the magic, including recipes and recommended resources
The knowledge you need to avoid wasting time and money on false starts
_____________________________________________________________
When: October 22, 2017, 10:00 am – 1:00 pm
Where: Rockmosa Community Hall, 74 Christie St, Rockwood
What to Bring:
An apron (if desired)
Clothes that can get some veggie splatter on them
Personal dish cloth (if desired)
Cost: $100.00
10% off for those living in Guelph/Eramosa Township. Not sure if thats you? Click here to determine. Use the promotional code "rockwood". All addresses will be checked.
____________________________________________________________
Your Instructor
Val Andrews is a culinary professional who brings over 25 years experience to her art. She has worked as a food service manager, culinary instructor, recipe developer, caterer and farmers market stall operator. She is dedicated to the use of local, organic ingredients and creating a dining experience that is not only delicious, but health-giving and memorable. For Val, good food, whether you are growing it, preparing it or eating it, is the foundation for forging strong, joyful relationships and building community. Val has been preserving and fermenting foods since her childhood. She has a unique gift for making her students feel confident and empowered to take hands-on skills home and put them into practice. Check out her website, The Harvest Pantry.
Thank you to our partners for making this workshop possible