About this Event

JULY PROMOTION - THE COURSE IS NOW FREE!
WHAT YOU GET:
Free
Access to live online Instructor-led sessions
*You won't be able to participate or ask questions.
Premium
Access to live online Instructor-led sessions
Access to Course LMS (Learning Management System)
Training Materials
Live breakout labs (3 person maximum) with Subject Matter Experts
Hands-on exercises
Questions and answers
Lifetime access to recorded sessions
Certificate of Achievement
Course Overview
This course is designed to provide participants with a fundamental understanding of the capabilities of Power BI. Students will discover how to quickly gather, clean and transform data with just a few clicks. They will also learn to enhance results by integrating disparate data sources and add simple calculations using DAX functions and queries. Participants will create visualizations and incorporate them into dashboards that can provide up to the minute reporting. At the end of this course, participants will have a solid understanding of the skills required to use Power BI.
Student Prerequisites
Anyone attending this course require no previous knowledge of Power BI, however an intermediate knowledge of Excel and experience in working with databases and other data sources would be advantageous.
What you will learn
By the end of this course, users should be comfortable with:
Connecting to Data Sources with Power BI Desktop
Working with Reports and Visualizations
Using the Query Editor
Transforming and Cleaning Data
Data Modeling
DAX Basics
Introduction to the Power BI Services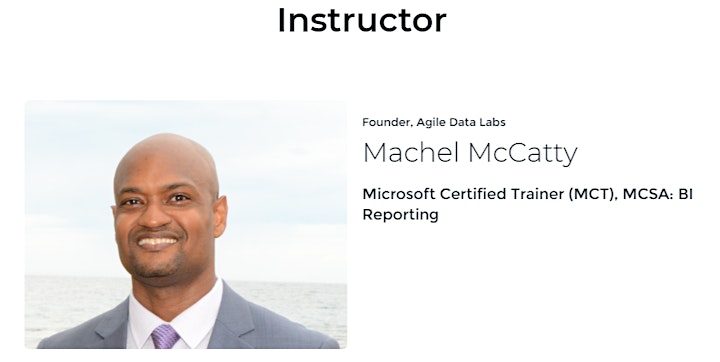 Course Outline
Lesson 1: Getting Started
Topic A: An Introduction to Power BI
Topic B: Working with Power BI Desktop Files
Topic C: Connecting to Data Sources with Power BI Desktop
Topic D: Creating a Reporting with Visualizations
Topic E: Doing More with Visualizations
Lesson 2: Working with Data
Topic A: Transforming and Cleaning Data
Topic B: Using the Query Editor
Topic C: Data Modeling
Topic D: Managing Relationships
Lesson 3: Working with Reports and Visualizations
Topic A: Managing Report Pages
Topic B: Changing Report View Options
Topic C: Working with Visualizations
Topic D: Adding Static Objects to a Report
Lesson 4: A Closer Look at Visualizations
Topic A: Matrixes, Tables, and Charts
Topic B: Maps
Topic C: Cards, Gauges, and KPIs
Topic D: Slicers
Lesson 5: Introduction to the Power BI Service
Topic A: Getting Started
Topic B: Connecting to Data Sources with the Power BI Service
Topic C: Using Workspaces, Dashboards, and Reports
Topic D: Creating Custom Dashboards
Topic E: Power BI Service Features