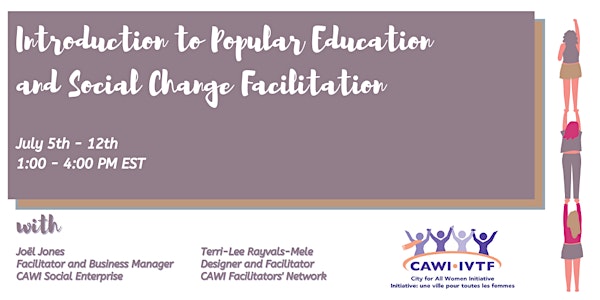 Introduction to Popular Education and Social Change Facilitation
CAWI is happy to announce the launch of our Facilitation 101 Training online!
About this event
Our workshop series is suited for new and experienced facilitators and will set a solid foundation for anyone interested in facilitating within CAWI, their communities and beyond. We offer sliding scale options.
Dates: July 5th, 7th and 12th
Time: 1:00 - 4:00 PM EST
Session #1 Theory and Methodology of Popular Education
Session #2 Elements and Practices of Inclusive Facilitation
Session #3 Group Dynamics, Facilitation Techniques and Methodologies
Session #4 Practice! This session will be scheduled after discussing a date and time with the participants.
By the end of the workshop participants will:
Be oriented to the work of CAWI, and to the CAWI Facilitators' Network
Be able to explain the theory and methodology of social change through popular education and apply it to workshop facilitation
Be able to identify and apply elements and practices of inclusive facilitation
Be able to list the role and responsibilities of an inclusive, social change facilitator
Have the tools needed for promoting positive group process with a trauma-informed lens and for dealing with challenging group dynamics
Practice a variety of facilitation techniques and methodologies
Look at concrete ways to apply inclusive facilitation to their community work