Event Information
Refund policy
Refunds up to 1 day before event
It's 2021. Yet our approach to fiduciary and informal organizational governance is stuck in the past. But not for long.
About this event
Introduction to Radical Governance Practices: Boards and Bylaws
In our work to advance a more just, inclusive economy, one of the most overlooked social change leverage points are board of directors, advisory boards, and organizational bylaws, both formal and informal.
In this seminar, we, together, take a look at current board/advisory good governance trends, and focus particularly on the role and importance of bylaws as tools we can use to advance social justice in organizational and institutional spaces. We will also share our expertise, research, and lived experience in setting about to create radically inclusive, feminist informed organizational bylaws that align with the times.
This session is for you if you:
Have an incorporated enterprise
Currently have a board or advisory board in place
Have not updated your enterprise bylaws in a long time.
Currently serve on a fiduciary (legally accountable) board of directors;
Are curious about boards and bylaws
Background
"Governance is an ecosystem with many players, influences, and factors. … We need to critically examine the very design of governance so that effective governance is not wholly dependent on maintaining an effective board."—ONN (Ontario Nonprofit Network)
"Despite the trust and dollars we donate and invest, many of these [nonprofit, social purpose] organizations face serious internal issues. There is often a wide gap between their public mandates — improving people's lives and advancing society — and their private behaviours. Rampant in the sector are weak governance structures and outdated human resource policies that together often promote, rather than prevent, injustice. "—Shanazz GoKool, former CEO of Dying with Dignity
Governance determines who has power, how power is distributed, who makes decisions, how stakeholders make their voice heard, experiences felt, what is communicated and how account is rendered.
The majority of organizational by-laws are written according to convention or currently defined best practices which in large part, are conform and reinforce patriarchal, colonial and white supremacist values and norms. Startup Founders often spend little time on establishing healthy bylaws. Guidance from conventional experts typically advises founders to maximize control and minimize financial risk by creating governance systems that centralizes power via the establishment of executive committees, limiting the number of director seats (for efficiency sake) and designing governance systems which inherently devalues and disempowers the wisdom of staff and the communities they serve. Such governance systems also make it difficult for complaints or whistle blower beneficiaries, volunteers and staff from both inside and outside the organization to feel safe about reporting injustice and oppression including racism, sexism or harassment (to name a few). Policies and conflict resolution mechanisms tend to oppress those who dare to come forward, many of whom are already systemically oppressed.
The good news is that boards and by-laws that govern their practice don't have to be instruments of patriarchy, white supremacy, and colonialism. Non-fiduciary advisory boards can also benefit from considering these issues.
In Brief: 4 Things you will do in this session
Update/Increase your knowledge about the purpose of corporate bylaws/general feminist board governance practices
Find out how to develop your own feminist-informed bylaws
Know what to look for in bylaws before joining any board.
Meet /network with other amazing feminist entrepreneurs in the FEC!
Agenda:
3:50 PM: Gather/establishing presence
4:00 PM: Check in: Share one story related to serving on a board--good or bad.
4:15 PM: Informational presentation and Q&A about role of boards in general, key governance issues/trends, plus our journey and lessons learned.
4:40: Break Out #1: Case Study
5:00: Debrief
5:15: Concluding Points and Check Out
Preparation
Registered participants will be given links to three readings one week in advance of the seminar.
Accessibility:
The slides and presenter notes will be distributed on the day of the session as access copies. The session will use automatically-generated ZOOM captioning. ASL is not offered.
Please e-mail admin@liisbeth.com for personal accommodation requests, and we will do our best to meet your needs.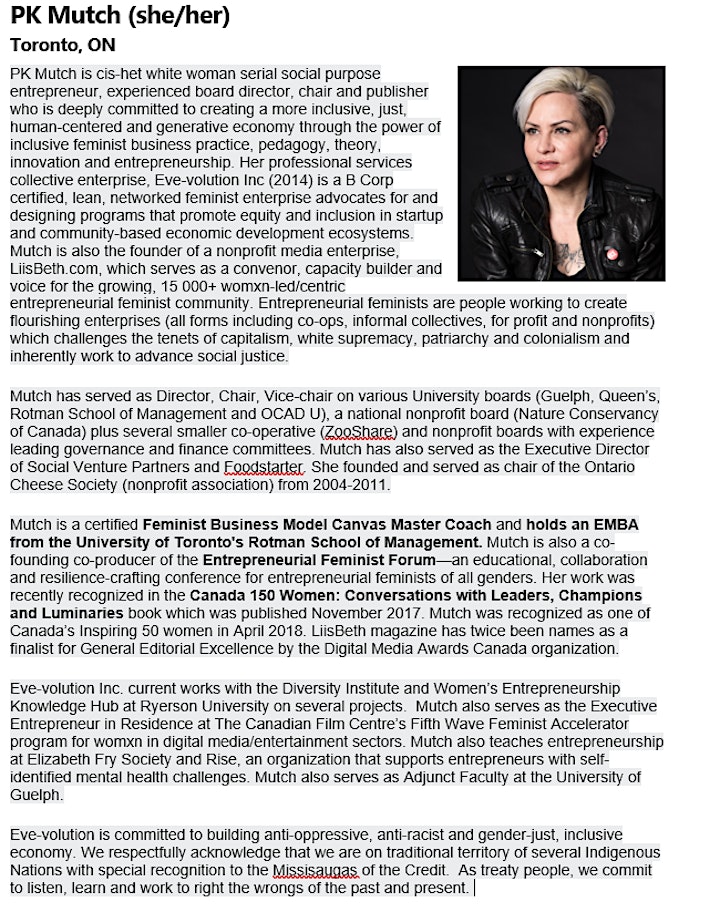 OUR PRICING PHILOSOPHY AND PWYC GUIDELINES
To compensate fairly the years of lived experience and know how that informs this workshop plus current logistics/communications labour, and to generate help sustain the work of Liisbeth.com and the Feminist Enterprise Commons' online community, workshop tickets are available at two levels: Full price at $79.00 CAD /pp and Pay What You Can--even if it is only $2.00 (no judgement!).
Offering a PWYC ticket is there to provide access to those with less privilege that most. We don't believe in totally free tickets for workshops because we feel its important to commit with some level of payment. Total seats are limited so we can give you the support you need in the workshop. Too many people changes the experience. So if you take a space, it's important to show up if at all possible.
To select the ticket option that feels right for you, draw on the wisdom and example of Holly Poole-Kavana at Red Bird Botanicals. CV Harquail brought this framework to our attention. Holly created this guidance (below) which we cite with gratitude.
Consider choosing a lower ticket level if you:
are paying for this workshop out of your own pocket (versus paid for by employer budgets)
are supporting children or have other dependents on one income plus
have significant debt
have material medical expenses not covered by insurance
receive public assistance
have immigration-related expenses
are an elder with limited financial support or living on government pensions
are an unpaid or community organizer
Your household 's total earnings are $50K CAD gross $40K gross in USD or equivalent in your country.
Consider the higher ticket level if you:
your participation in this workshop is being subsidized by your employer
your total household income exceeds $50 000 CAD gross or $40 000 gross USD
you own the home you live in
have $10K plus in dividend earning investments, retirement accounts, or inherited money
travel recreationally
have access to family money and resources in times of need
work part time or not at all by choice
have a relatively high degree of earning power due to level of education (or gender and racial privilege, class background, physical ability, etc.) Even if you are not currently exercising your earning power, I ask you to recognize this as a choice.
Thank you for choosing to attend this workshop!
Date and time
Location
Refund policy
Refunds up to 1 day before event
Organizer of Introduction to Radical Governance -Boards and Bylaws
LiisBeth media connects and convenes the global intersectional feminist business community. Entrepreneurial feminists are transforming business and leading some of the most powerful changes in our communities by building social justice into products, services and relationships.  In the process, they are building collective power to evolve capitalism and ensure an inclusive economy. 
You can find our magazine at www.liisbeth.com.  Sign up to our monthly newsletter today!