Location
Wear Your Label Design Studio
469 King St
Fredericton, NB E3B 1E5
Canada
Description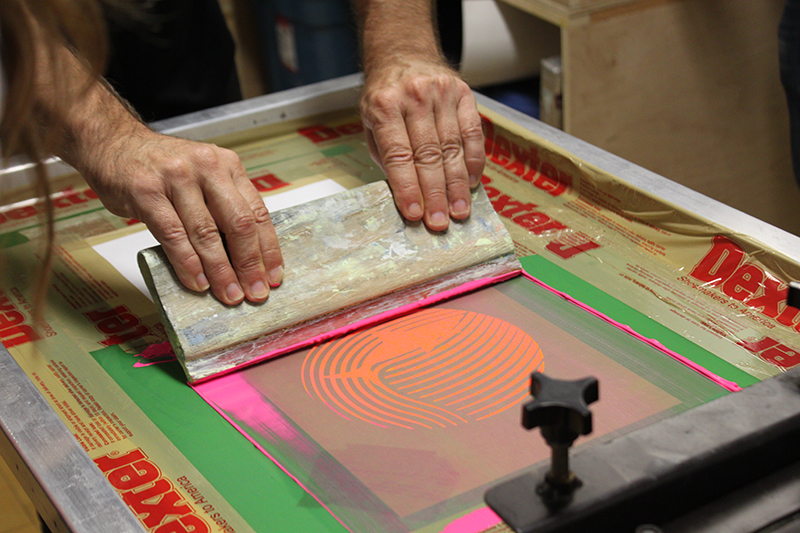 Silkscreen printing is a versatile printing method that gives you the ability to print designs on mediums such as paper, textiles and many other surfaces.

Description
Have you ever wanted to make your own custom t-shirt, tote bag, sticker, poster, or greeting card? In this workshop you will learn the basics of the screen printing process, from image creation to screen preparation and printing techniques. By the end of the session you will gain some experience printing on multiple surfaces such as paper and textiles.

Class Goals
Students will learn all they need to start screen printing. After an informational overview of the entire process, students will dive right in to hands-on work so that by the end of the workshop they leave with some printed products as well as the skills to print on their own.

Materials
Students can bring their own materials to print on - t-shirt, tote bag, paper, etc. The instructor will provide materials for test prints and screens and ink. Students can also bring their own ink to experiment with.

Pricing
Workshop - $30
Includes 2 prints on paper or textiles
NOTE: Location Change
This event will now be hosted at 469 King Street! (not the Makerspace).
Even though this is a Fredericton Makerspace event, it's being hosted in the
Wear Your Label
Design Studio (2nd Floor) on King Street. Thanks to our friends at
Wear Your Label
for the use of their space!
Pre determined designs will be provided for workshop participants to experiment with but for an additional $10 fee you can submit your own design (one-colour vector file), which can be prepared for the workshop. Please contact Philip LeBlanc for more information – philip2leblanc@gmail.com

Instructors
Philip LeBlanc
Kyle Macnevin