Description
The virtual reality wave is coming! Build your first VR game for Google Cardboard and begin creating VR experiences with our Introductory VR Developer Workshop - the only VR workshop of its kind Canada!

Join us July 30th, 2016 for Edmonton's first complete Virtual Reality Developer Workshop. Learn to develop games for VR using Unity and accelerate your skills with our full-day introductory course hosted in UofA's ECHA building room 490 (11405 87 Ave NW, Edmonton). No development experience required and all participants receive a FREE Google Cardboard headset!

By the end of the VR Developer Workshop you will have built a VR submarine piloting game on Google Cardboard and be able to begin extending your knowledge to making VR content of your own! This full-day workshop is by far the quickest way to begin learning VR development. During the afterparty participants will have an opportunity to network, try HTC Vive demo's and speak with the instructors from Academy of VR to answer any questions you may have. We're looking forward to seeing what you create!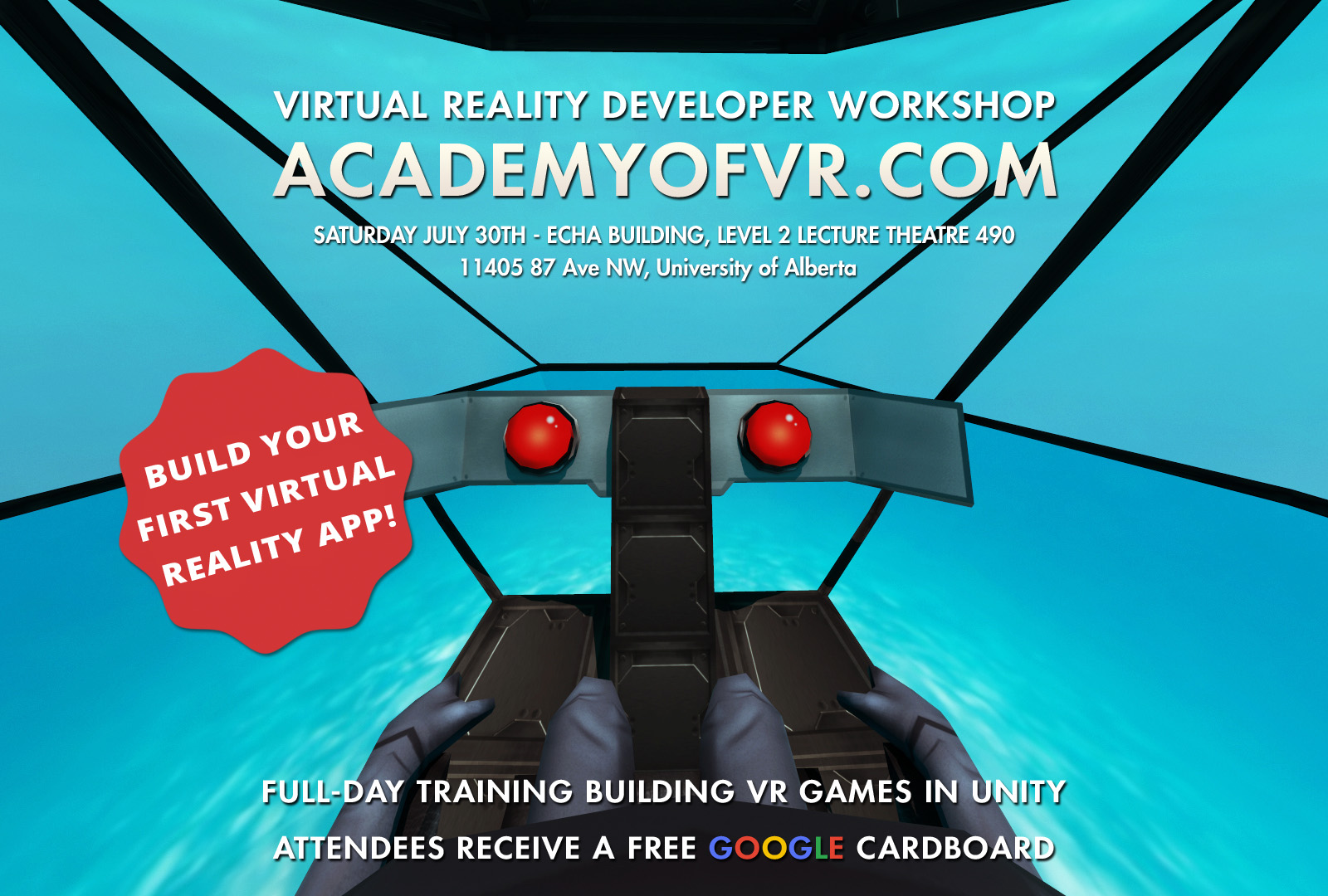 What you get with the workshop:
A full day of VR developer training

Access to expert VR instructors

A submarine piloting VR game that you create and can show on any android phone

Networking time and HTC Vive demo's during the afterparty

A free Google Cardboard headset
What you'll learn:
Introduction to C# (Unity's programming language)

How to use Unity, the worlds leading 3D engine, to create VR apps

How to design amazing VR experiences to the industry's best practices
Requirements:
A laptop or computer with all the appropriate software installed. Please watch this video and prepare your development environment before attending the workshop on Saturday: https://www.youtube.com/watch?v=Nkx5ViIwxYg

A Mouse for your computer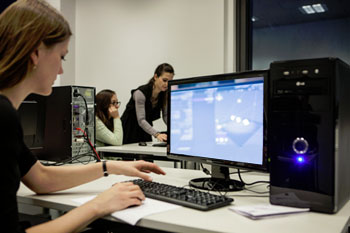 FAQs
Who should take this workshop?
Anyone interested in learning to create games and experiences for virtual reality. This course is perfect for many levels from beginners new to Unity and game development to people looking to learn how to create experiences specifically for VR.
What should I bring to the event?
Your laptop or computer with Unity installed. The latest version of Unity can be download from Unity's website here: https://unity3d.com/get-unity. The personal edition is free. Your laptop mouse and power cord, your Andoid cellphone (if you have one!) and a USB cable for the phone. A lunch or some money to purchase food.
Do I need experience with Unity or C# before taking this workshop?
Nope! This is an introductory level workshop, we will go over basic programming concepts, resources and how to get the most out of Unity, the ultimate game develpoment tool.
Do I need my own VR headset to take this course?
No, we will provide everyone who signs up with a FREE Google Cardboard to work with for the day and take home.
What are my transport / parking options getting to the event?
The closest parking to the ECHA building is the Jubilee Car Park just across the street. There are several busses which provide quick and convenient access to UofA as well.

Where can I contact the organizer with any questions?
Please send any questions to support@AcademyofVR.com.
Can we follow up after the course?
Yes! Academy of VR would love to hear from you and help answer any questions you may have. Similarly, we will be offering future workshops and online courses that dive deeper into VR development on platforms like the Oculus Rift and HTC Vive. Stay tuned to academyofvr.com for details.
What can you do after taking this course?
Our experienced group of instructors are going bring you quickly up to speed on the industry's best practices for creating VR content using Unity. You will have a grasp on the foundational skills needed to develop for VR and can begin bringing your own ideas to life in this new medium. For more advanced topics, there are lot's of future resources available which we will direct you towards.

Is there an age limit?
Nope! The only requirement is that you are interested in learning to create VR experiences.

Why the price $ for the workshop?
All participants are receiving a free Google Cardboard headset. We have to cover the costs of the venue, travel, accomodation and are providing a meal during the after party. We're working to bring you amazing instructors from the VR industry which we have to incorporate into the cost of the event. The price for a 4 week, 12 hour course in Seattle is over $800 and many in person live Unity and VR training courses cost over $1000. We're offering almost the same amount of training in 1 day for less then a 1/4 of the price! We want to help build the Virtual Reality community in Canada.
What if I'm not happy with my workshop experience?
If you're not overly satisfied with your experience at the workshop we will happily refund you 100% of your ticket price.
Do you offer any other courses in VR development?
We are offering future workshops and online courses that dive deeper into VR development on platforms like the Oculus Rift and HTC Vive signup for our mailing list at AcademyofVR.com for info!