Description
We live in a time where being a leader means that you need to be a great presenter too. But what if like me, you didn't learn this skill early on?
As my career progressed, I was thrown into a boardroom and people just kept TALKING. No one was really listening, and I had to deal with these attitudes:
Peers thought I didn't have an opinion, although I had many, but wasn't always vocal.

Peers often thought I didn't care about what was being discussed, although I cared quite deeply, but needed time to process my thoughts.

Leadership often underestimated me because I wasn't quick on my feet to make my voice heard.
Truth be told, I was just unprepared to communicate in a boardroom.
I have picked up a few tips in my years as an executive and want to share and empower other introverts. The boardroom doesn't have to feel like a battlefield.
In this workshop, we will discuss tools and tips to improve your boardroom skills. Also, during this event, you will join a group of people that are like-minded peers, and most importantly, you will have a safe place to ask questions and be heard.
The reality is that "Presentation Literacy isn't an optional extra for the few. It's a core skill for the twenty-first century" eloquently states Chris Anderson, Head of TED Talks.
Remember, being an introvert doesn't mean you can't shine. It just means you need to learn how to shine brightly on your own terms! So, come join us for a lunch where we will dig deeper into this topic.
About the facilitator: Michelene Maguire
As Managing Director of Maguire Marketing Group, Michelene steers the ship, but she surrounds herself with incredibly talented people at all times. With a long career as a marketing executive for software companies, she now loves helping all types of clients succeed. She facilitates the B2B Marketing Mastermind, INTROVERTS in the BOARDROOM, and also coaches executives.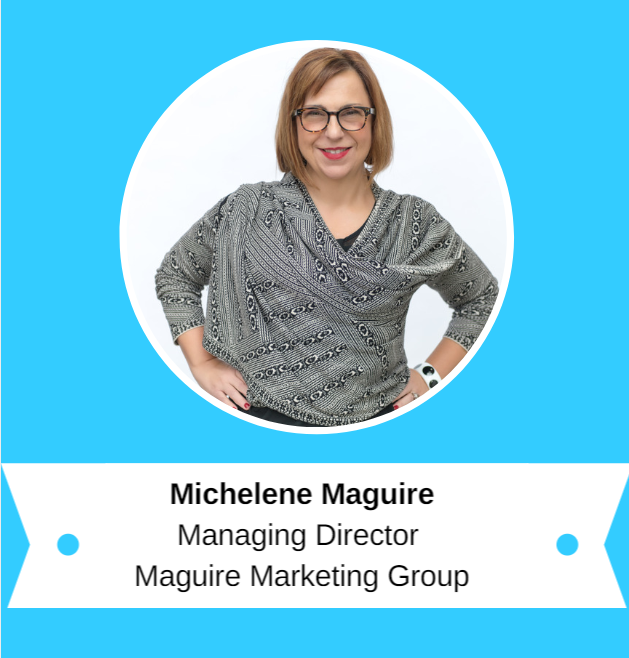 *Please note that groups are limited in size. This is an intimate event suited for Introverts looking to expand their presentation skills in business.