Description
Get ready for tax season.

We are pleased to announce the return of our nationwide ProFile Training Workshop series!
We know tax season is hectic, and we want you to be prepared. By completing this training, you can become a ProFile expert and earn CPD credits. This full-day session will teach you everything you need to know about Canada's best-selling and highly trusted professional tax software product, Intuit ProFile.
Meet our ProFile trainers.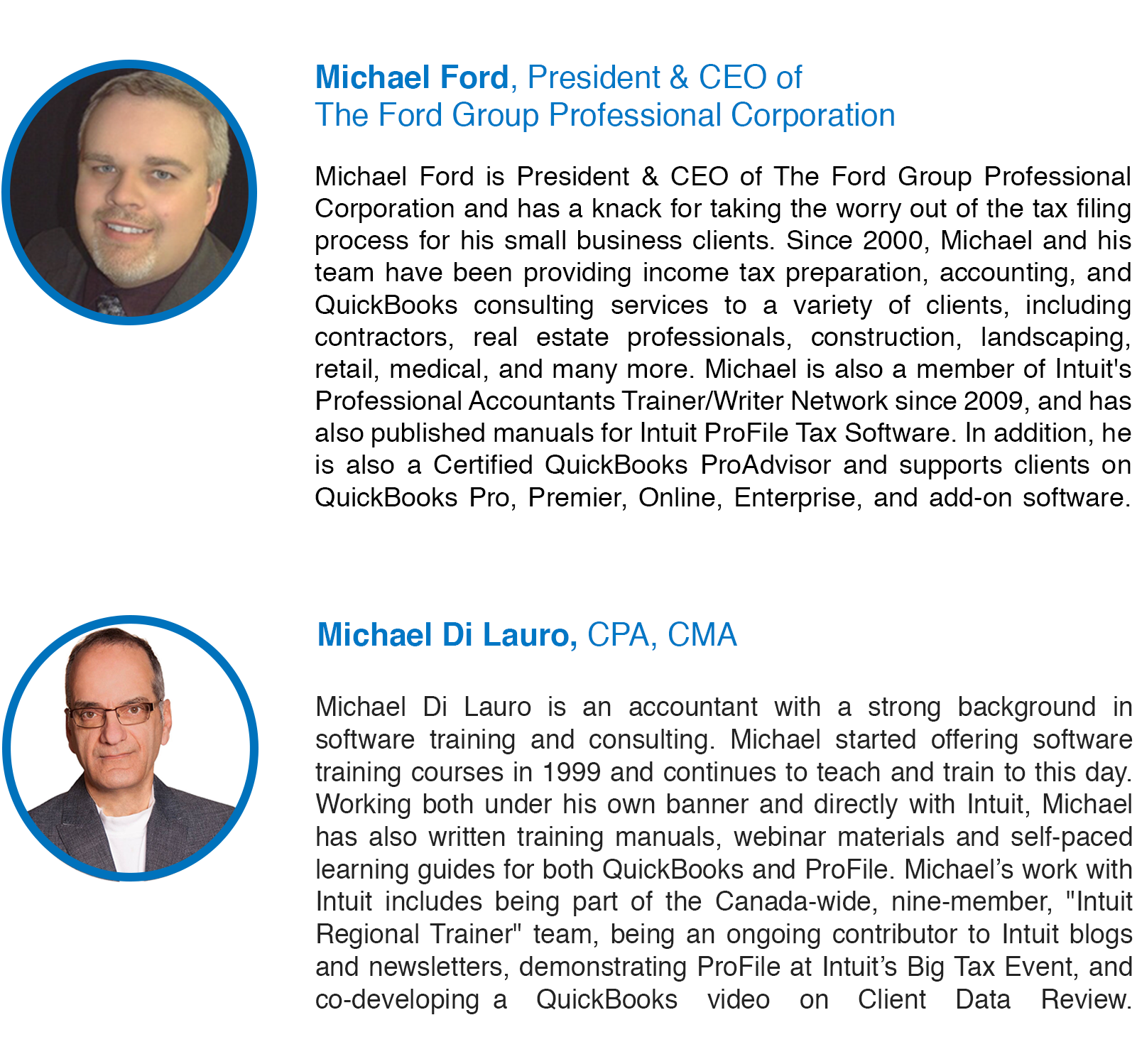 Our ProFile trainers have a combined 33 years of tax practice experience. They use real-world scenarios and interactive demos to guide you through this in-depth seminar. Walk away with actionable learnings and industry best-practices that you can apply right away. This is a high-demand event and spots are limited!
Register now for only $49 (Breakfast and Lunch included)
---
Agenda
Registration and Breakfast 8:30AM - 09:00AM
Basic Training 9:00AM - 12:00PM
We'll start with the basics:
Customizing your setup & Options Administration
- Cover all the main features
- Productivity-boosting shortcuts
Lunch 12:00PM - 1:00PM
Advanced ProFile Training 1:00PM - 04:00PM
From there, we'll get into the details of everything you'll need to know to be more proficient in ProFile:
New ProFile features for tax year 2016
Cover all the main features
Database Management & Reporting
T2 module Intro (Setup, GIFI and what ProFile does)
T3/FX module Intro (Setup, T4/T4A, Auto-fill CRA forms)
What to know before you attend.
Please bring your laptop.
Install ProFile before the workshop.
Attendees will receive 6 CPD credits.
If you're unable to attend, please cancel at least 2 business days prior to your session to receive a refund.