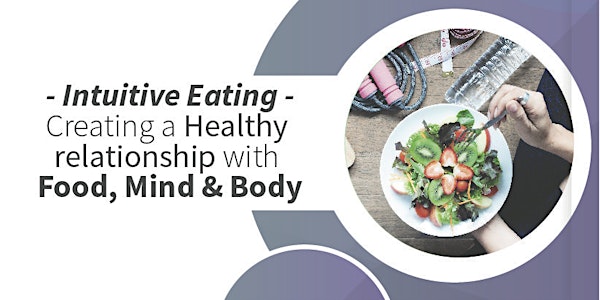 Intuitive Eating - Creating a Healthy Relationship with Food, Mind & Body
When and where
Location
Shecosystem 703 Bloor St W Toronto, ON M6G 1L5 Canada
Description
Join us to learn more about intuitive eating. This event is open to everyone interested in getting into a loving and nuturing relationship with food and your body, and exploring simple, self-care exercises to fully support you in living your best life! This event features our panel of nutrition and wellness experts
Laura De Sanctis, Holistic Nutritionist (CNP), speaker, health blogger and wellness ambassador.
Ximena Cardenas,

Holistic Nutritionist (CNP) and wellness ambassador.

Nida Nathani, Holistic Nutritionist (CNP) and

Intuitive Lifestyle Coach

Jacyln Irwin,

Holistic Nutritionist (CNP) and health blogger.
These wonderful women will take us along their journey + practice of intuitive eating, and answer your questions about how to make peace with food and finally reject the diet mentality! In this panel discussion we will discuss:
How to nourish your body from a place of love - How to eat with intention and put a stop to dieting - Strategies for shifting your habits
Self care tips
What it means to eat intuitively
Life is too short to feel badly about your body or hate yourself for what you eat. In this panel discussion we explore how food, meditation and self-care can help create a helpful foundation that will support us.
Food is definitely one thing we cannot escape. It can either work for you or against you BUT you have to decide if you want to take that relationship with food and your body on a more loving level.
People get trapped into this conversation around food and their body. What is good, what is bad. Many people in our nutrition practices suffer from disordered behaviour around food instead of embracing food and their bodies.
Each panel speaker has embarked on their own holistic journey of self-healing and well-being. They will be sharing their journeys on how it is possible to eat amazing food that is healthy, and how food has put them in a different energectic state.
When it comes to food, it's not just about eating kale or smoothies all the time. It's about eating with intention and your relationship with food.
You may find you ask yourself: What are you eating? Why are you eating this way?
Are you eating from a place of happiness when you eat certain foods?
Let's shift the conversation you have every single day with food and discuss some of the ways you can have a loving and nuturing relationship with your body, so you can be fully supported in living your best life.
FREE SWAG BAG with amazing nutritionist approved products!