About this Event
Giving an intuitive massage is a fun form of conversation that can lead to deep healing for both the person giving and the person receiving.
This form is like a dance between two partners. It takes place in a social environment where people explore movement with a partner in a fun and fascinating way. Similar to social dance, it's both appropriate for romantic partners and friends or even strangers. It's different in that partners will switch roles and not switch to leader or follower, giver or receiver. You will be following your partner much more than you would follow the music. Intuitive massage requires a different kind of listening; using your body to interpret instead of your ears.
In this workshop we will cover: how to deepen the senses, how to attend to your own needs and the needs of your partner, a little structural anatomy, how to facilitate healthy movement in another person's body, how to encourage physical expansion in a safe and supportive way, that sort of thing.
This workshop is suitable for all levels of experience and those comfortable sitting on the floor. Intuitive massage is done fully clothed and is not a replacement for therapeutic massage, however it can lead to a deeper sense of relaxation and connection.
♬
Amy Kubanek is an embodiment activist who wants for all of us to be fully present in our minds and our bodies so that we OWN the actions we take. She can help you get into your body and out of your head while having fun in the process. Amy has over 20 years experience teaching and a deep understanding of the body. For 5 years she was the head of the Pilates program at an integrative health clinic in Vancouver. The experience gave her insight into the back end of the health care system. Now she combines her knowledge in active rehabilitation with the tools that stage performers use to tap into humanity and the powerful ways in which we can connect to each other.
♫
"Amy taught me how to listen to my body and to feel connected in a deeper way. At the time, I didn't realize how powerful her lessons were. But years later, I still value and practice what we did together. Working with her has changed my life for the better."
— Louise Andersen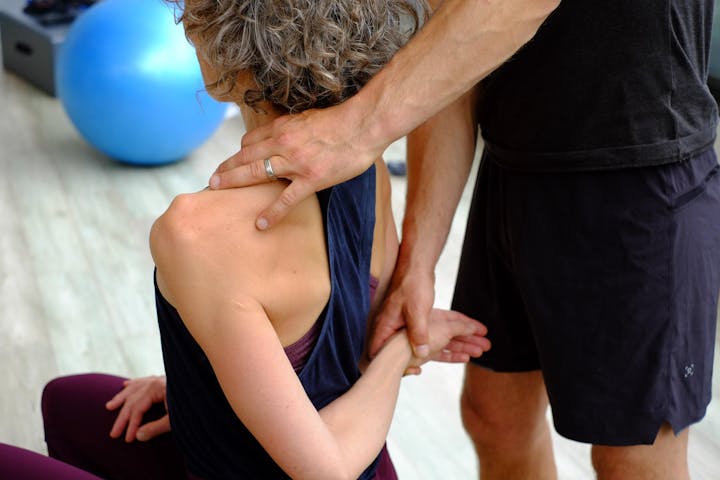 Give your neck some relief with a gentle arm and shoulder stretch.