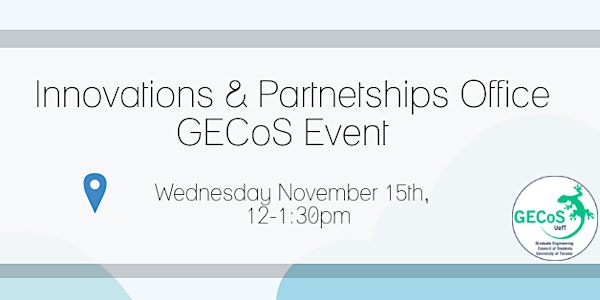 Inventions at UofT for Grad Student Entrepreneurs
When and where
Location
RBC Innovation Hub - ONRamp Banting Building 100 College Street, First Floor Toronto, ON
Description
Does your research have commercial potential? Are you working with an industry partner? Or are you interested using your research to do a technology start-up?
Come and find out how to leverage your research to create IP (Industry Partnerships) and how that IP is used to build commercial value.
During this interactive workshop, you'll go away knowing more about:
- What make your research commercially relevant?
- UT Inventions Policy - who owns what and why and how to access IP for commercial use?
- How does all the money shake out when you make it?
This Lunch&learn event will be hosted by Karen Temple from the Innovations & Partnerships Office (IPO) at the Univeristy of Toronto. Karen Temple provides over 15 years of experience in technology commercialization across a range of sectors. Prior to joining the University of Toronto as a Commercialization Manager, Karen worked for companies in technology and business development roles. Working directly with high growth technology companies, her product development experience and market segmentation strategies have repeatedly resulted in faster client acquisitions times. At the University, Karen is responsible for develops building IP value and negotiating IP access with UT start-up companies. Karen is currently Chair Education for the Toronto Chapter of the Licensing Executive Society (LES) USA and Canada.
Free lunch will be served for participants.