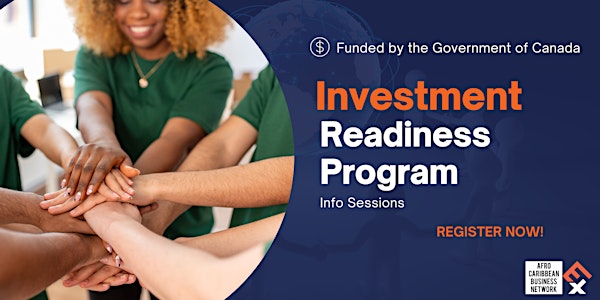 Investment Readiness Program Info Sessions
As a Social Purpose Organization you can get support to access and participate in the larger social innovation and social finance ecosystem.
About this event
Are you a social enterprise, charity, non-profit organization, co-operative, or a business with a social purpose on the hunt for grants and would like to apply for the Investment Readiness Program?
Our partner ACBN was selected as part of the builders that will strengthen the Social Innovation and Social Finance ecosystem by investing in projects that advocate for inclusiveness and integration.
Join us to get a guide to help along the way!
These Info sessions give you an understanding of the IRP funding, timelines, requirements and much more.
The Investment Readiness Program (IRP)
Funded by the Government of Canada, IRP supports social purpose organizations as they contribute to solving pressing social, cultural and environmental challenges across Canada.
Its goal is to help social purpose organizations build their capacity to participate in Canada's growing social finance market and prepare for the Government of Canada's broader investment in social finance via the Social Finance Fund.
Applications for the next streams will be open in Fall 2022. Let us help you get ready for the IRP funding.
Join us to learn more about the Investment Readiness Program.
Sessions held on Wednesdays on a bi-weekly schedule, starting Sep 7th.
Register today to make your funding journey easier!
BENEFITS
You will:
Learn the foundational elements of the grant
Create your work plan
Get support every step of the way
PLEASE NOTE:
You need to register to attend this session.
If you require any accommodations to register or to ensure your full participation in this event, please let us know at programs@empowered4x.com.
MEDIA CONSENT:
Photographs and video recordings may be taken at this event. Your image may be used in printed and electronic publications for promotional and educational purposes and may be made available to the media and other third parties or published on the Internet. By registering for any of our events, you understand and acknowledge that your image may be taken and used at our discretion. If you have concerns about your image being used for these purposes, please send and email to programs@empowered4x.com