Location
cSPACE King Edward
1721 29 Avenue Southwest
#Suite #125
Calgary, AB T2T 6T7
Canada
Join experienced coaches and scale up businesses in a half day workshop focused on the fundamentals of raising growth capital.
About this event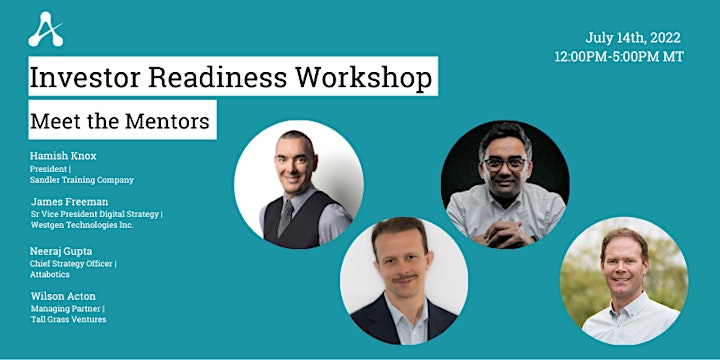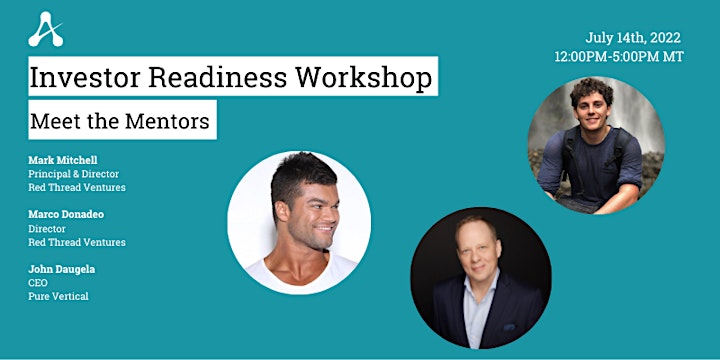 This half day workshop put on by Alberta IoT will aim to cover the fundamentals of capital raise including, structuring the deal, navigating the sales funnel, nailing due dilligence and practicing the pitch. Further session details can be found below.
Following the workshop, all guests are invited to join the Alberta IoT Stampede Stomp for an evening of food, drink, and good company!
Requirements to attend:
Come prepared with a no more than 5 minute pitch
Be available to attend in-person in Calgary, AB
Bring laptop, pen & notepad
All pitches will be printed in advance and provided to your groups for the pitch review portion.
What you can expect:
Half day facilitated workshop
Opportunity to practice your pitch and get direct feedback
Lunch & refreshments
Stampede Stomp Party & networking included
AGENDA
12:00 PM Arrive and Registration
12:30 PM Sessions Begin
4:45 PM Workshop Wrap-Up
5:00 PM Stompin' Stampede Networking Event
8:30 PM Event Close
SESSION DETAILS
Session 1: Capital Raise as a sales funnel (Presented By: Hamish Knox)
You're not going to raise money from everybody. Know who you are speaking with and look at who your potential investors are. And remember, not all money is good money… Consider the strategic alignment and your investor value proposition.
This session will explore the investor thesis and the different avenues for raising capital.
Session 2: Valuation & Structuring the deal (Presented By: James Freeman)
Getting this right helps set you up for success during your discussions with investors. Even more important than the number you showcase is how you got there and what you have to back it up.
This session will explore options for raising capital, structuring the deal and the dos and don'ts of setting your valuation in preparation to raise.
Session 3: The Dreaded Due Diligence (Presented By: Wilson Acton)
Setting yourself up for success means being prepared for the questions that you will inevitably be asked by investors. Let's look at a due diligence checklist and identify your current gaps.
Session 4: The Pitch (Presented By: Neeraj Gupta)
You have prepared and worked hard to get in front of investors. How do you now tell your story so they will listen? How do you spark enough interest to make use of that due diligence checklist you've prepared?
This session will discuss the best practices for pitches and nailing the pitch deck. It doesn't have to be flashy to be effective!
Session 5: Implementation/Questions
Coaches will be coming around to answer questions. This is your chance to have a look at your own pitch. What would you change in the future? Have you considered the valuation presentation? Are you ready for the due diligence questions?
The instructors and coaches are available to share their best practices and address any questions.
Session 6: Pitch Practice
Practice makes perfect! This is your opportunity to share your story. Keep it to 5 minutes in order to leave time for feedback and questions. Take notes and lets see your hard work in action.
Small groups will have 5 companies to one facilitator. Each company is allotted 8 minutes (This includes the pitch and feedback session)
THANKS TO THOSE MAKING THESE EVENTS POSSIBLE!
Our events are supported in part by our generous annual sponsors – Avnet Inc., Ingram, Socium Law, CH Financial Ltd., PCL Construction, Rogers Communications Canada Inc., TELUS, MNP LLP, clearmotive marketing, KPMG LLP, Canadian Blockchain Consortium, SAIT (Southern Alberta Institute of Technology), Alberta Innovates, Microsoft Canada, Eddy Solutions, mCloud, EY, BottomLine, nVent, Goodlawyer and Delphi Technology Corp.
Thank you also to our funders - Alberta innovates, Prairies Economic Development, OCIF, and Alberta Enterprise Corporation.