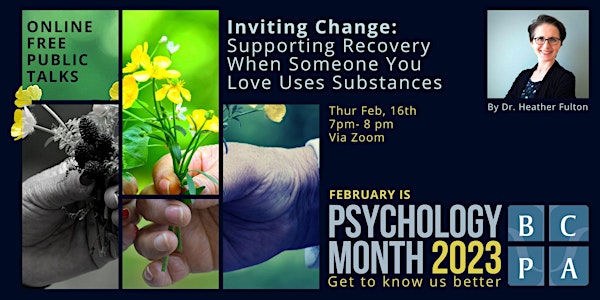 Inviting Change: Supporting recovery when someone you love uses substances
As part of Psychology Month 2023, Dr. Heather Fulton will be discussing ways to help a loved one when struggling with substance abuse.
By British Columbia Psychological Association (BCPA)
Date and time
Thu, Feb 16, 2023 7:00 PM - 8:00 PM PST
About this event
When someone you love is experiencing problems due to their substance use it can feel overwhelming. You probably have heard all kinds of advice like using "tough love" or letting them "hit rock bottom". There is another way. This talk will review science-based approaches to supporting a loved one to make change more likely- as well as helping yourself. Family members and friends can- and do- make a difference. Low and no-cost resources for further support will also be shared.
Registration deadline: Thu, Feb 16, 2023, 7:00 PM
About the presenter:
Dr. Heather Fulton is a Psychologist with over two decades of experience researching, studying, volunteering, and working in the area of mental health, including substance use disorders. She has presented internationally and locally on the intersection of mental health and substance use disorders as well as best practices in care.
Click here to download the Psychology Month 2023 full program.
*Please note that Psychology Month presentations are ineligible for Continuing Education (CE) credits & attendance certificates will not be provided.
About the organizer
February is Psychology Month and at BCPA we are delighted to invite you to join our many free online presentation on a wide range of topic related to mental health.
Register free and you will receive the Zoom meeting details a few days before the talk.
Share with your family and friends and see you soon!
For inquiries contact us at: info@psychologists.bc.ca