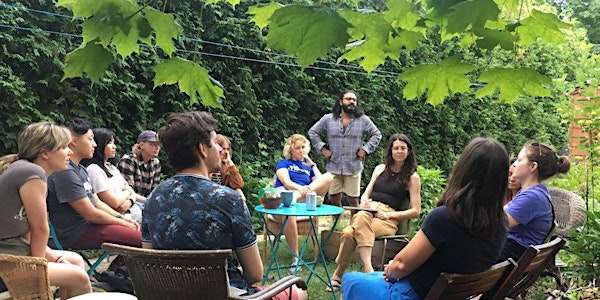 Inwit Community Night
August Zero Waste Backyard Picnic | Inwit Community Night
When and where
Location
33 Galley Ave 33 Galley Avenue Toronto, ON M6R 1G9 Canada
About this event
Join Carbon Conversations Toronto and Inwit for mindful conversations, open-mic and a delicious zero-waste dinner!
About this event:
Are you new to the topic? Few years into your zero-waste journey? Have you ever felt isolated speaking with friends about environmental concerns Want to find a community of like-minded people interested in personal climate action?
If you answer yes to any of these, then you will love the Zero Waste Picnic at the Park! Come and join us for this one-of-a-kind experience. Everyone is welcome!
Join us on Monday, August 15th, at 33 Galley Avenue for a zero-waste Inwit meal* and open-heart climate conversations facilitated by fellow eco-lovers from Carbon Conversations Toronto. We can't wait to share conversations with more people in the city striving to build a carbon-neutral world together!
Date: August 15, 2022
Time: 6:00 pm - 8:00 pm
Location: 33 Galley Avenue - proceed to the backyard by following the walkway to the left of the house.
Schedule:
6:00 pm - 6:30 pm: Mingle, Food Pick-Up, and Open Mic**
6:30 pm - 7:30 pm: Facilitated Conversations
7:30 pm - 8:00 pm: Optional Community Conversation and Wrap Ups
Zero Waste Picnic is an inclusive, non-judgemental space where we can openly chat about our successes and frustrations, exchange knowledge, share tips, and come together to create a community striving to build a carbon-neutral future together.
In Partnership with Inwit and Carbon Conversations Toronto:
Hungry, busy and love the planet? Inwit is piloting a local food app—zero waste! You can now pre-order and receive your takeout in gorgeous reusable containers without a deposit! Inwit is creating a community of Torontonians who love food and the planet.
Carbon Conversations TO is a volunteer-run group that aims to motivate individuals in Toronto communities to express their concerns about climate change while gaining tools and resources to help them reduce their carbon footprint.
**We also want to hear from you! If the topic of climate change inspires you creatively to write a poem, compose a piece of music, or anything, we would love to have you share with the community. Please send an email to hello@inwit.ca with your name and what you'd like to share.