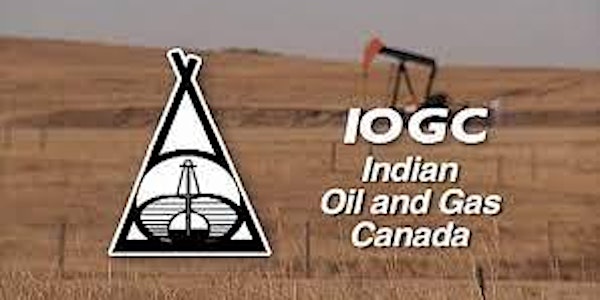 IOGC Royalty Information Session - October 6 PM Session
IOGC Town Hall - Royalty Information Session
When and where
Location
Canada Energy Regulator (Hearing Room) 210-517 10 Ave SW Calgary, AB T2R 0A8 Canada
About this event
Over the past few years, Indian Oil and Gas Canada (IOGC), a Special Operating Agency of Indigenous Services Canada (ISC), has been embarking on multiple initiatives, including the modernization of our royalty systems and processes.
A few areas of system and process enhancements include:
1. Incorporation of Mix/Spec Product Pricing (as implemented by Alberta Energy in July 2014);
2. Implementation of the Modernized Royalty Framework (as implemented by Alberta Energy in 2017); and,
3. Implementation of a GCA platform within the Petrinex platform (already implemented in February 2019, with future enhancements).
The majority of the above processes and tools will be officially implemented within the enhanced IOGC infrastructure in January 2023. Hence, the IOGC Royalty Team has organized the following Town Hall Sessions, to engage and to communicate information of the upcoming system changes, new reporting processes, and address any questions you may have.
Town Hall Session Dates:
To ensure the most effective use of time and to offer added flexibility in participation, there will be three separate event registrations, one for each session below. You only need to attend one session, but are more than welcome to attend multiple sessions if you wish.
• Tuesday October 4th – AM Face to Face Session (10am to noon, MST)
• Thursday October 6th - PM Face to Face Session (1:30 pm to 3:30pm, MST)
• Tuesday October 11th – PM Virtual Session (1:30pm to 3:30pm, MST)
Venue:
Canada Energy Regulator (CER, Hearing Room)
210-517 10 Ave SW, Calgary, AB, T2R 0A8
Health and Safety Requirements:
Everyone's safety is paramount to us. Masks are required to be worn during the face to face sessions, social distancing will be encouraged for seating areas to the greatest extent possible, and hand sanitizers will be available at the registration desk.
Who should attend?
This session is open to all who have an obligation to submit and report on IOGC Royalty matters and First Nations oil and gas contracts (primarily Alberta and Saskatchewan Jurisdiction), including Royalty Payors, Operators, Consultants (including those administering GCA and Trucking submissions), or anyone new to IOGC Royalty and data submission matters.
Proposed Agenda and Topics:
1. Welcome and Introduction
2. Update on Implementation and Requirements on
a. Mix/Spec Pricing Project
b. MRF – RIMS1 Project
c. Updates and Lessons Learned from 2021 GCA Submissions and Approval Process
d. Enhancement to IOGC Royalty Statement and REN Mgmt process
3. Demo
a. New Electronic Data Submission with accompanying revised Manual
b. Royalty Assessment Process Enhancement – New Royalty Module (RM Module)
4. Open Discussion – Q&A