Connecting Video Game / Interactive Digital Media Studios Who are Hiring with Emerging Black Professionals & New Grads
About this event
THIS REGISTRATION IS FOR
VIDEO GAME/INTERACTIVE DIGITAL MEDIA INDUSTRY
ONTARIO BASED COMPANIES HIRING FOR CURRENT OR FUTURE
ONTARIO BASED BLACK PROFESSIONALS AND POST-SECONDARY STUDENTS SEEKING OPPORTUNITIES
Interactive Ontario is hosting ipprenticeship: Career Fair for Emerging Black Professionals and Students, in collaboration with Ubisoft and event partners.
The two-day event connects companies looking to hire emerging Black professionals with those seeking employment, and post-secondary students seeking internship opportunities.
Book introductory one-on-one meetings with Video Game/Interactive Digital Media studios who are looking to connect with new talent!
After you register you will receive an onboarding email from B2B/2GO to build your profile and start booking meetings.
KEYNOTE PRESENTATION
The KPI's of DNI: Impactful Strategies for Investing in Diversity and Inclusion
Leading studios share Diversity and Inclusion initiatives and policies that support branding, cultural identity of the studio, and the challenges of implementing change.
Here's What You Will Learn:
What does it mean to make a commitment to Diversity and Inclusion
How to practically invest in initiatives and policy changes that support branding and company culture
Challenges and opportunities that arise when implementing Diversity and Inclusion initiatives
Meet the Keynote Panelists Below!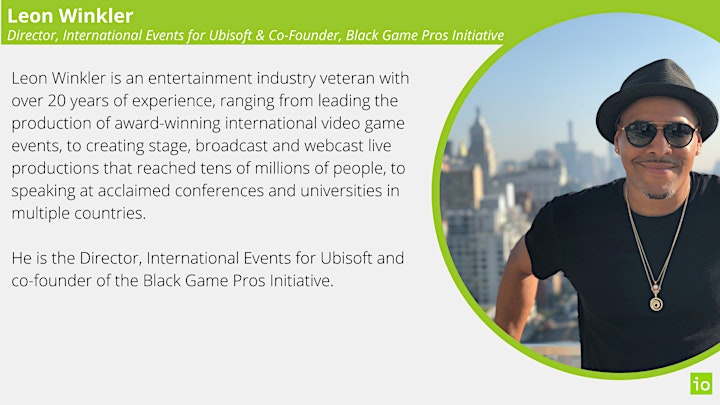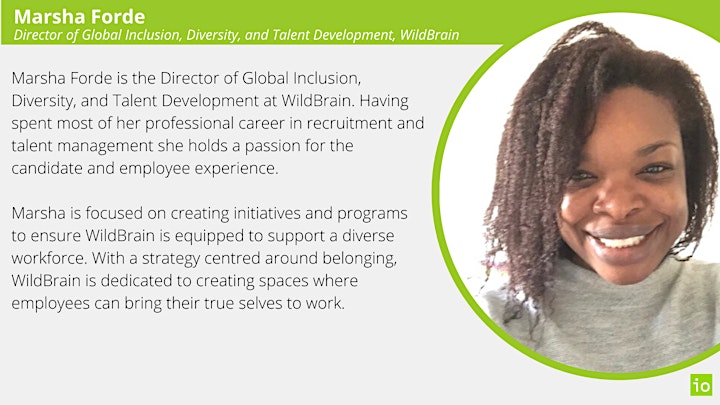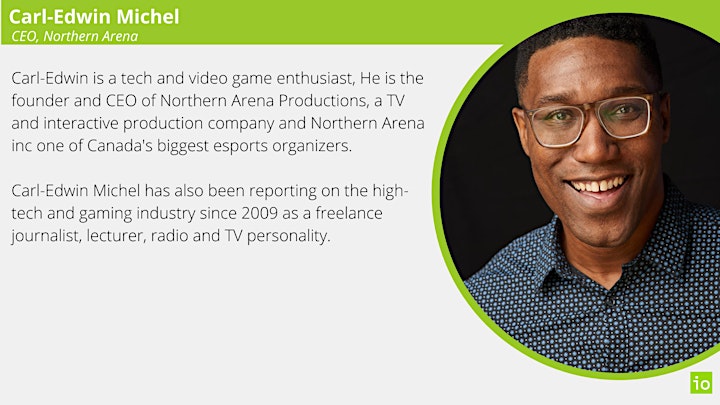 Ubisoft Toronto: Student & Early Career Info Session
Learn more about taking your first step into game development at Ubisoft Toronto. Our campus recruitment team will discuss the studio's student initiatives, including Ubisoft Toronto NEXT and the Ubisoft Graduate Program. They'll also share tips and tricks for building a strong job application for your future opportunities
Meet the newest AAA studio in Toronto - Certain Affinity
Certain Affinity is excited to be part of the IO Career Fair. Please come join this session to learn more about Certain Affinity, what we look for in potential candidates, what makes our company a great place to work, and how you can get your foot in the door of the gaming industry. Speaker: Kaleb Aylsworth
-----------------------------------------
SCHEDULE:
THURSDAY FEBRUARY 25TH:
1:00 pm EST - 2:30 pm EST - Keynote Presentation
4:00 pm EST - 5:00 pm EST - Ubisoft Toronto: Student & Early Career Info Session
2:30 pm EST - 6: 00 pm EST : Meetings on B2B/2GO
FRIDAY FEBRUARY 26th
10:00 am EST - 11:00 am EST - Meet the newest AAA studio in Toronto - Certain Affinity
10:00 am EST - 6: 00 pm EST - Meetings on B2B/2GO
----------------------------------------------------------
Platform: B2B/2GO
B2B/2GO is an online networking platform that allows you to easily book face to face business meetings and attend video meetings with audio, camera, and screen share to present in real time. Access online business meetings safely and in a simple click. No download is required and all meetings can be taken directly on browsers in private virtual meeting rooms.
Thank You to Our Partners:
Keynote Event Partners: Ontario Creates, Canada Media Fund, and Bell Media Fund.
Presenting Partners: Ministry of Children, Community and Social Services and Ubisoft
ipprenticeship is a Black Youth Action Plan (BYAP) initiative. BYAP works toward eliminating systemic, race-based disparities by increasing opportunities for Black children, youth and families across the province. For the past 2 years Interactive Ontario has been supporting postsecondary education and career development producing Digital Dive and ipprenticeship, Industry-Led Career Initiatives for training, support and work placement opportunities to help Black youth secure high-quality employment and advance their careers in the Interactive Digital Media Industry.