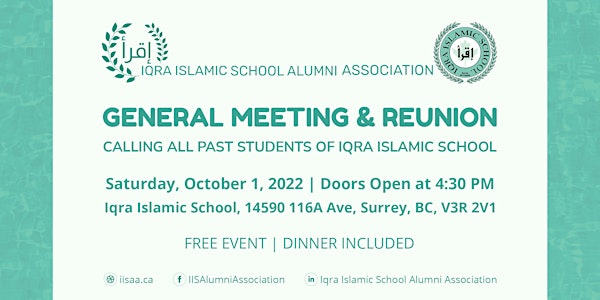 Iqra Islamic School Alumni General Meeting & Reunion
The Reunion and General Meeting hosted by the newly created and alumni-led Iqra Islamic School Alumni Association (IISAA)
When and where
Location
Iqra Islamic School 14590 116A Avenue Surrey, BC V3R 2V1 Canada
About this event
Are you a past student of Iqra Islamic School?
If so, you are invited to the upcoming General Meeting & Reunion event of the newly created and alumni-led Iqra Islamic School Alumni Association (IISAA)! Join us for a night of food, friends, memories and fun!
The event will consist of a General Meeting to formalize the establishment of IISAA, followed by a social reunion event and complementary dinner where you will get a chance to reunite with old friends and classmates, while also networking with other alumni who you may not have crossed paths with until now.
We encourage you to forward this event to your old alumni contacts - the more the merrier! We look forward to reconnecting with you all InshaAllah!
About us: IISAA is dedicated to reconnecting the expanding network of alumni and leveraging their shared capacity to give back to the Iqra Islamic School community.
Location: Iqra Islamic School, 14590 116a Ave, Surrey, BC V3R 2V1
When: Saturday, October 1. Doors open at 4:30pm, Program begins at 5pm
RSVP on Eventbrite (Free!)
Who is invited: Iqra alumni, staff and Board members.
Want to volunteer? Email us at info@iisaa.ca.
Visit IISAA.ca to register as a member to vote for our first Executive Board!
Facebook: facebook.com/IISAlumniAssociation
LinkedIn: linkedin.com/company/iqra-islamic-school-alumni-association/