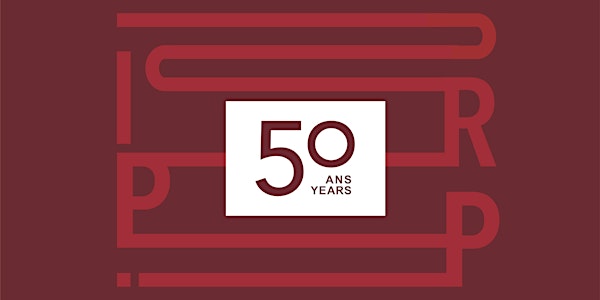 IRPP public policy lecture in honour of France St-Hilaire
Location
McCord Museum
690 Sherbrooke Street West
Montréal, QC H3A 1E9
Canada
A special event as part of the IRPP's 50th anniversary-year activities NON-TRANSFERABLE INVITATION
About this event
The Institute for Research on Public Policy is celebrating its 50th anniversary this year. For 30 of those years, France St-Hilaire has been a pivotal figure in reinforcing the Institute's reputation as a trusted source of independent, bilingual, public policy research in Canada.
On the occasion of France's retirement, the IRPP invites you to attend a special lecture in her honour. The lecture, entitled "The puzzling persistence of racial inequality in Canada," will be delivered by Queen's University Professor Emeritus Keith Banting and Debra Thompson, the Canada Research Chair in Racial Inequality and Democratic Societies at McGill University. Their remarks will explore why Canada's robust welfare state – which includes universal health care and myriad employment and training programs – as well as a race-neutral immigration selection system, official multiculturalism and the Charter have not been able to mitigate racial economic inequality.
A moderated Q&A will follow the discussion. The presentations will be in English, and questions in French are welcome.
-------------------------------------------------------------------
L'Institut de recherche en politiques publiques fête cette année son demi-siècle d'existence. Et pendant 30 de ces 50 années, France St-Hilaire en a été une figure centrale en assurant la qualité de ses travaux et en consolidant sa réputation d'organisme de référence national, bilingue et indépendant.
À l'occasion de son départ à la retraite, l'IRPP vous invite à une conférence spécialement organisée en son honneur. Intitulée « The Puzzling persistence of racial inequality in Canada », elle sera prononcée par Keith Banting, professeur émérite de l'Université Queen's, et Debra Thompson, titulaire de la Chaire de recherche du Canada sur l'inégalité raciale dans les sociétés démocratiques (Université McGill). Les deux conférenciers y examineront pourquoi un État-providence aussi bien établi que le Canada n'a pas été en mesure d'atténuer l'inégalité économique raciale, malgré son système de santé universel, ses multiples programmes de formation et d'emploi, son processus non discriminatoire de sélection des immigrants, sa politique officielle de multiculturalisme et sa charte des droits et libertés.
Une période de questions suivra les présentations, qui se dérouleront en anglais. Les questions en français sont toutefois les bienvenues.