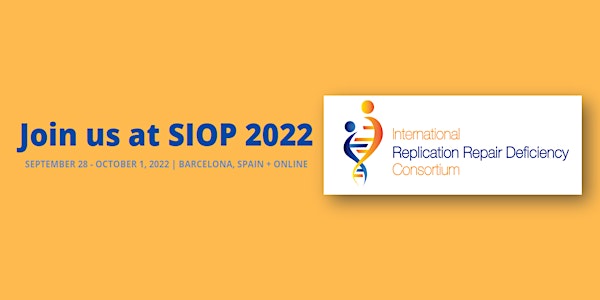 IRRDC SIOP Symposium
The International Replication Repair Deficiency Consortium (IRRDC) is planning to host a Breakfast Symposium at SIOP
When and where
Location
International Barcelona Convention Center 11-14 Plaça de Willy Brandt 08019 Barcelona Spain
About this event
Dear Colleagues
We are excited to announce that this year, the International Replication Repair Deficiency Consortium (IRRDC) is planning to host an exclusive lunch and learn symposium for interested scientists and physicians at the 54th Annual Congress of the International Society of Paediatric Oncology in Barcelona, Spain.
This event will take place on September 28th at 7am CEST in room M211, on the Mezzanine Level of the Congress Venue
Why Have A Symposium on RRD? With the development of better diagnostic screening tools, we are finding that DNA replication repair deficiency (RRD), once thought to be extremally rare, may account for up to 10% of all childhood cancers. These cancers are resistant to chemo-radiation, which leads to universal lethality, and thus require alternative therapeutic approaches than cancers with functional replication repair. We hope this exciting program, which will feature both scientific advancements and clinical discussions, increases awareness of these syndromes, and helps better treat patients with RRD cancers.
The program will include a series of keynote presentations from IRRDC members and collaborators. Each talk will be led by a recognized expert in the specific area of study. Attendees will have an opportunity to learn about and discuss these exciting clinical and research findings an an informal setting.
Tentative Agenda:
7.00-7.05: Welcome and Introduction
7.05-7.15: Overview of the International Replication Repair Deficiency Consortium; The power of a global registry.
7.15-7.25: "LOGIC" - A novel, affordable, and easy to implement MSI-based diagnostic tool to screen for CMMRD.
7.25-7.35: Immunotherapy for patients with replication repair deficient cancers; what we have learned and where we are going
7.35-7.45: New monitoring tools for response prediction in RRD cancers; ctDNA and tumor inflammation scores
7.45-8.15: Round table: Challenges in RRD care in Low and Middle Income Countries (focusing on burden/prevalence, challenges with diagnosis, surveillance and drug access in LMIC)
8.15-8.30: Thank you + Poster Viewing + Interactions/QA.