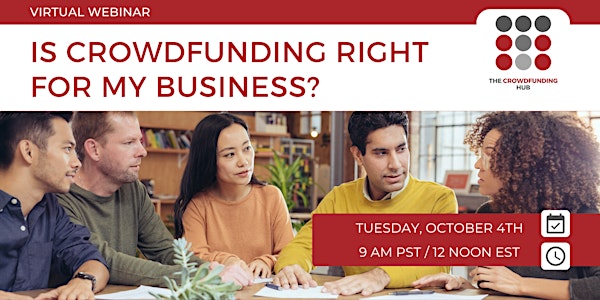 Is Crowdfunding Right for my Business?
Crowdfunding is a great way to raise capital for your business. Have you considered launching a campaign? Join our webinar to learn more.
About this event
Have you considered crowdfunding for your business?
Tuesday, October 4th at 10 am MST, Victoria Bennett from The Crowdfunding Hub is hosting a virtual webinar to help you determine whether crowdfunding is the right choice for you!
We will be discussing what types of businesses and projects are most successful with crowdfunding, as well as going over the different stages of a campaign and what you can expect. So whether you're just starting to research crowdfunding or you're already deep in the planning stages, this webinar is for you!
Register here for your personal event link: https://livewebinar.com/392-752-798
This webinar is designed for those who are considering crowdfunding to finance their business or project. We welcome anyone and any company interested in learning more about crowdfunding and how it may assist your business. No prior experience is required.