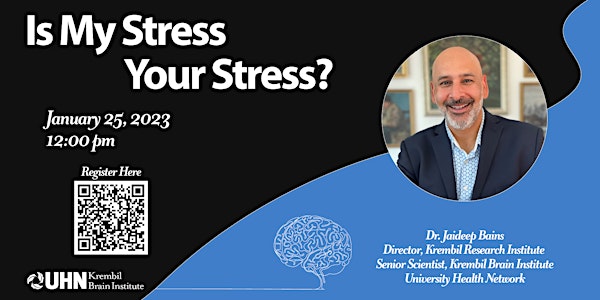 Is My Stress Your Stress?
Join us for on Bell Let's Talk Day for a seminar on wellness and stress. [Virtual Registration]
About this event
In honour of Bell Let's Talk Day and with a goal of improving mental health awareness more broadly, the Krembil Brain Institute welcomes all members of UHN and the general public to a talk on the science of stress. In this session, attendees will hear from Dr. Jaideep Bains, Neuroscientist and Director of the Krembil Research Institute about:
The physiological impact of stress on the brain
Benefits of control or perceived control of a situation
How stress is transmissible to others
Learn about how stress affects your brain circuitry, and what scientists are discovering about the long-term impacts of stress on the brain, the most complex and unique organ in our body.
Speaker Bio:
Dr. Jaideep Bains is an internationally recognized expert in brain research and recently joined the University Health Network as Director of the Krembil Research Institute.
For the past two decades, Dr. Bains has led a very successful team that has made many important discoveries that have provided insights into how the brain adapts to stress. These studies have shed light on links between neurotransmission, synaptic plasticity and brain network states with important behavioural and physiological responses in different models of stress.
More recently, Dr. Bains has pioneered approaches that use advanced technology platforms to measure changes in brain circuits in response to stress and the consequence this has on specific types of behaviour. His team developed a novel system for behavioral assessment and combined this with optogenetic and circuit mapping to link activity in the brain's stress command neurons to the transmission of stress/fear from one individual to another. He has also been active in the potential for clinical application of this research through commercialization efforts.