About this Event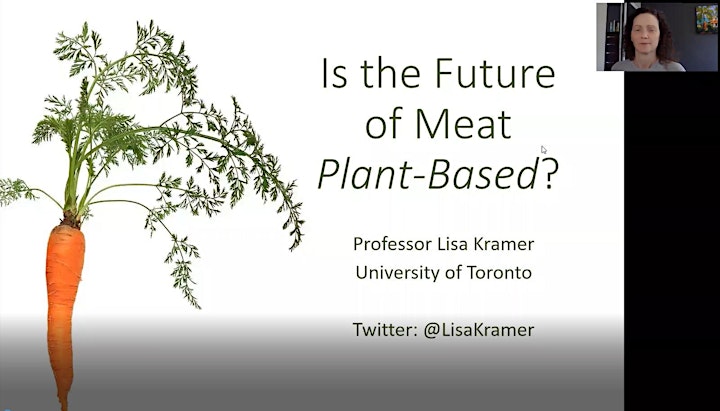 Wherever you shop for groceries, you have likely encountered a growing selection of plant-based alternatives to meat. The Beyond Burger, cashew cheese, and chicken-free nuggets are just a thin slice of what is on offer.
This online presentation by the University of Toronto's Professor Lisa Kramer will provide an overview of the rapidly evolving marketplace for these new products which aim to cater not only to vegans and vegetarians but also omnivorous consumers. Professor Kramer will discuss ground-breaking technology, so-called "clean meat" or "cellular agriculture", which is poised to disrupt the food-production industry by replacing the industrial production of live animals with the prospect of real meat made with cell cultivation. All of these new developments foretell a looming revolution in the market for meat, with potential benefits to the environment, human health, and animal well-being.
The talk is moderated by Amy Morris, executive director of Vancouver Humane Society. The presentation will be pre-recorded so that Dr. Kramer can answer questions live in the chat. A Q&A session with Dr. Kramer will follow to answer any additional questions. The event total time will be 45 minutes.
Lisa Kramer, PhD, is a Professor of Finance at the University of Toronto. She is a behavioural economist who conducts interdisciplinary research. Her published papers, on a wide range of topics such as the role of human psychology in shaping consumer decisions and markets, and the many ways animal-based biomedical research harms humans. Her research has appeared in leading economics, finance, business ethics, and psychology journals. Her studies have been extensively profiled by the popular press, including the Globe and Mail, CBC News, BBC News, the Washington Post, the Wall Street Journal, and many others.