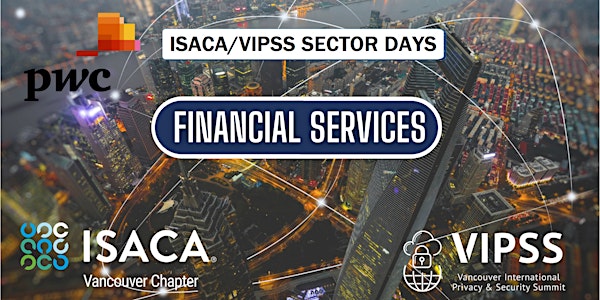 ISACA 2023 Sector Days – Financial Services (IN-PERSON)
Financial Services Sector Day presented by ISACA Vancouver, Vancouver International Privacy and Security Summit (VIPSS) and PWC
When and where
Date and time
Thu, Feb 9, 2023 1:00 PM - 4:00 PM PST
Location
250 Howe St suite 1400 250 Howe Street #suite 1400 Vancouver, BC V6C 3R8 Canada
About this event
You're invited to our complimentary Financial Services Sector Day presented by the Vancouver International Privacy and Security Summit in partnership with ISACA Vancouver and PwC Canada on February 9th. Join your peers and industry experts for an interactive afternoon of thought-provoking discussion where we'll cover some of the most relevant cyber security and privacy topics impacting the Financial Services Sector in Canada today.
Our tightly packed 3-hour agenda was carefully curated by a committee of your peers in the Financial Sector.
*Please note there is also an option to attend this sector session Virtually . To register instead for the virtual option please register through Reboot here - https://www.rebootcommunications.com/event/vipss23finance/
Agenda:
Welcome Address
- Victor Badejo, Manager, Cybersecurity, Privacy & Financial Crime, PwC
Session 1: The Symbiotic Relationship between Privacy and Security, the differences and the complementary efforts, processes and technology
-Presented by Kathleen Champagne, Managing Director, Privacy Lead, PwC
Session 2: Is securing personal information overrated in financial institutions?
-Presented by Elson Kung , Senior Manager, Chief Control Office, HSBC
Session 3: Panel Discussion: CISO Panel Discussion Ransomware and its effect on Canadian financial institutions
Financial organizations continue to face the constant threat of a ransomware attack. The increasing rate of these attacks demonstrates that adversaries have become considerably more capable of executing attacks at scale by successfully deploying the ransomware-as-a-service model. We discuss the various factors driving financial organizations to improve their cyber defense including cyber insurance, and the role of regulators within the industry.
Moderator: Maleena Singh, Senior Manager, Cyber Forensics Investigator, PwC
Panelists: Mike Burgener, Director of Information Security, VanCity Credit Union
Steve Pedersen, Director information Security, Coast Capital Savings
Alvin Madar, Partner, BC Cyber Lead, PwC
Bios:
Kathleen Champagne, Managing Director, Privacy Lead, PwC
Kathleen, a former Chief Privacy Officer for one of Canada's largest banks, is a Managing Director with PwC and leads the Canadian Privacy team. She is a seasoned leader and communicator with over 20 years' leadership experience across several disciplines including Privacy/Compliance, Program Management and Marketing. She has led more than 100 initiatives focused on, among other things, regulatory change, business transformation, data analytics, process improvement, enhanced employee experience, data trust, and improved customer loyalty. Kathleen has a passion for aligning teams from disparate backgrounds on a common purpose that seeks to the optimum employee and customer experiences and striking the right risk balance.
Elson Kung, Senior Manager, Chief control office, HSBC
Elson Kung is a governance, risk and compliance practitioner at HSBC, where he guides leaders to recognize, reduce, and avoid operational risk. Recently, he started Cactimo to provide cyber and related GRC advisory services. Elson has hands-on and leadership experience in risk and control monitoring, security incident and privacy breach management, operational risk management, assurance, Basel data maintenance, and SOX. He is an occasional guest speaker in media and industry events.
Before this, he worked in service and sales, business analysis, IT project management, and cyber security. He is a University of British Columbia graduate and holds professional designations in information systems audit and project management (CISA, PMP).
Maleena Singh, Senior Manager, Cyber Forensics Investigator, PwC
Maleena Singh works for PwC within the Cyber Forensics Investigations team, helping companies respond and remediate from cyber incidents, as well as working with companies to proactively prepare themselves against attacks. Prior to PwC, Maleena spent 23 years with the RCMP. The majority of her career was focused on fraud related investigations, before helping to create the Provincial Cyber Team in British Columbia. The last 4 years she was the team lead for the BC Cyber Team, working to assist cyber and cyber enabled investigations locally and internationally.
Mike Burgener, Director Information Security, Vancity
Mike Burgener has worked in the high-tech sector for over 20 years working for both Fortune 100 and start-up SaaS companies before recently joining Vancity as Director of Information Security. His experience covers a broad spectrum including cloud and on-premise infrastructure and applications including servers, storage, networking, disaster recovery, physical datacenter builds, ERP implementations as well as all things security related including static and dynamic code analysis, threat modeling, security awareness training and Information Security regulatory compliance.
Steve Pedersen, Director Information Security, Coast Capital Savings
Stephen has a Bachelor of Technology in Electrical Engineers from Cape Peninsular University South Africa. He also holds professional designations in Security Management, Intrusion Detection, Incident Response and Forensics from the SANS Institute. Stephen holds a MBA through SFU's Beedie School of Business. His Information Security career began in the mid-nineties connecting corporations to the Internet. Prior to joining Coast Capital Savings Federal Credit Union as Director information Security in 2017, Stephen spent 20 years in the Telecom sector (Telus) where he held a variety of security leadership roles.
Alvin Madar, Partner, BC Cyber Lead, PwC
Alvin Madar is a Cyber Security Partner in PwC's Vancouver office with over 21 years of experience in information security. Alvin has been involved in strategy development, solution architecture, threat and vulnerability management, and deployment of many enterprise solutions for multiple financial institutions across BC. He has been involved in a number of IT transformation projects and has worked as interim CISOs for a number of organizations, helping to develop their information security programs. Alvin is also a leading subject matter specialist in cyber incident response advisory, helping clients through breach preparedness, breach response and compromise assessments.
About the organizer
About ISACA 
With more than 125,000 members in 180 countries, ISACA® helps business and technology leaders realize the positive potential of technology. Established in 1969 ISACA is the trusted source of knowledge, standards, networking, and career development for information systems audit, assurance, security, risk, privacy and governance professionals. ISACA offers the Cybersecurity Nexus™, a comprehensive set of resources for cybersecurity professionals, and COBIT®, a business framework that helps enterprises govern and manage their information and technology. The association has more than 200 chapters worldwide.