Description
CONFLUENCE
Music, Poetry and Song
EVENT PRESENTING PARTNER: SFU Library
MUSIC SERIES SPONSOR: Creative BC
Make it a double-bill: Save $10 when you purchase tickets to both '5x15' and 'Confluence'
Jarrett Martineau, charismatic host of 'Reclaimed' on CBC curates a galaxy of potent voices from around the world with his customary eclectic, finger-on-the-pulse vision. Be prepared for an unforgettable night celebrating the power of the lyric in literature and music, moving from haunting hybrids of word and song, to ecstatic percussion-driven ballads.
What does an interweaving of South Asian, Indigenous, Black, and Queer stories of love and resistance look like? What myths have we inherited that give rise to new imaginings of liberation? Confluence unfolds the stories we have always told, continue to tell, and those we have yet to speak into being, in the fight to envision new worlds.
Featuring performances by:
- Acclaimed Anishinaabeg writer and musician Leanne Betasamosake Simpson (This Accident of Being Lost) with Juno nominated cellist Cris Derksen, singer-songwriter Ansley Simpson and guitarist Nick Ferrio.
- Caribbean-American poet and performer Aja Monet (My Mother Was A Freedom Fighter).
- Too Attached (Vivek Shraya and Shamik Bilgi) IN Magazine's 2018 Canadian Artists To Watch.
- Jhalaak, a new project by Juno award-winning sound designer Adham Shaikh, composer Rup Sidhu and members of Sufi music supergroup Rajasthan Josh.
Full venue description and accessibility information: Imperial Vancouver
Schedule:
6:30pm – Doors and box office open
7:00pm – 5x15
9:30pm - Confluence
Make it a double-bill: Save $10 when you purchase tickets to both '5x15' and 'Confluence'
Event Supporting Partner: Hari Sharma Foundation
Hospitality Partner: Tropicana Suite Hotel
Indian Summer Festival is made possible thanks to the wonderful support of: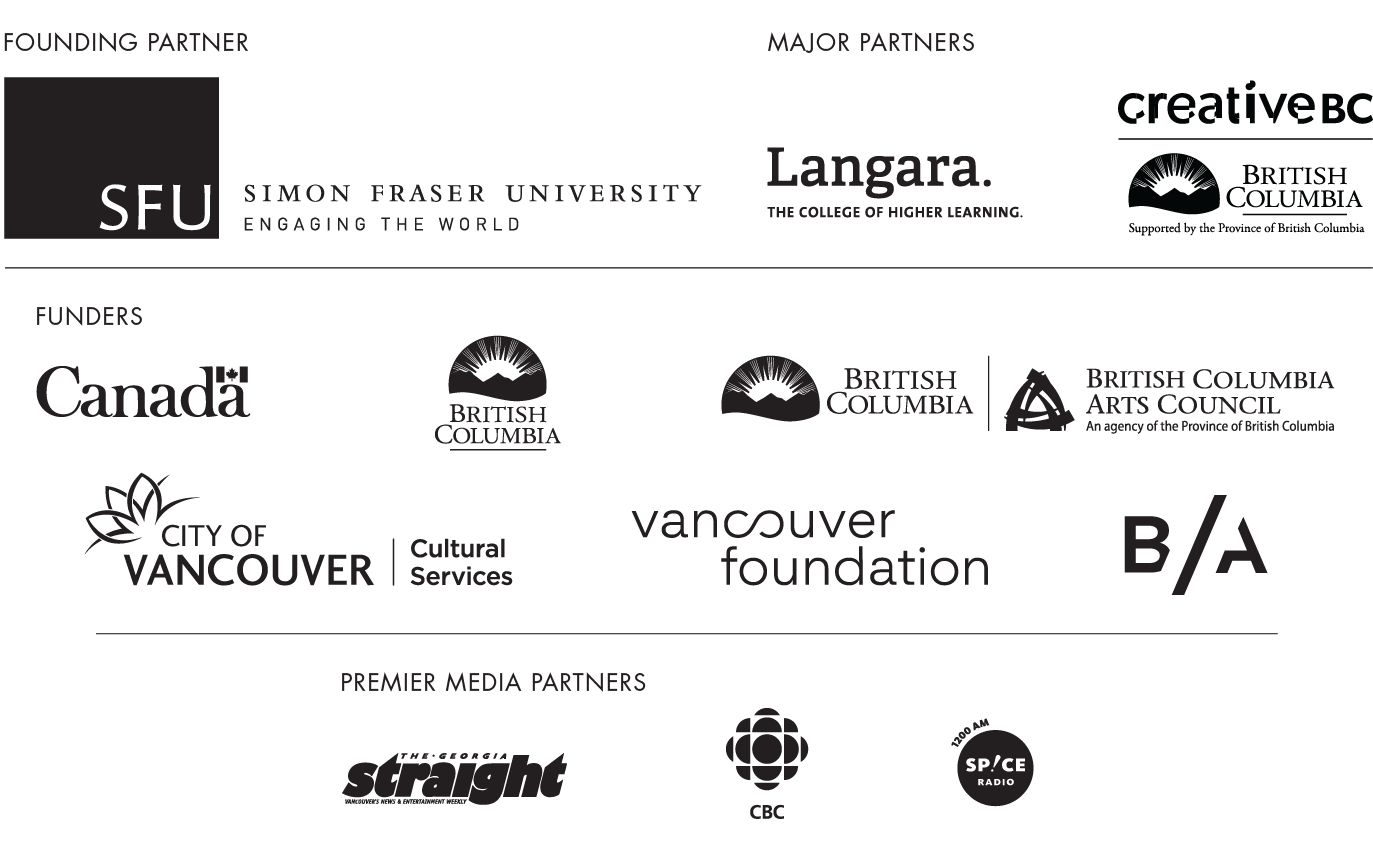 FAQs
Are there services fees on top of the ticket price?
For your convenience our listed ticket prices include GST, service fees, and payment processing fees.
What is the accessibility of this event?

Please contact engage@indiansummerfest.ca if ticket price is an obstacle (subject to availability).
Please refrain from wearing scented products while attending Indian Summer Festival events.
ASL: There is ASL available upon request - please email engage@indiansummerfest.ca to request ASL before Friday June 22d.
Mobility Access: the main floor of the Imperial is wheelchair accessible including ramps into the main theatre room as well as a main floor accessible washroom. The entrance to the venue is at street level.
There is no designated wheelchair accessible parking, only street parking around the neighbourhood.
Complimentary Companion Ticketing: We offer one complimentary companion ticket for those who require mobility assistance in order to attend. When purchasing tickets, please continue to "checkout" where you may select a complimentary companion.
Bathrooms: There is one single stalled, gender neutral, wheelchair accessible bathroom, located on the main floor. Multi-stall bathrooms will be gendered and trans-inclusive.
Seats: Individual plastic chairs. When purchasing tickets please continue to "checkout" where you may select if you require wheelchair seating as well as up to one companion, who will be provided with a chair next to you.
Scent: While Indian Summer Festival emails all ticket holders requesting that attendees refrain from wearing scented products at all of our events, we do not enforce this policy, nor does this venues have permanent scent-free policies in place.
If you have any questions, concerns, additions or corrections regarding this information please email engage@indiansummerfest.ca.
Are there ID requirements or an age limit to enter the event?
This event is 19+. Two pieces of ID are required for entry.
Is there reserved seating?
Seating is first-come first-served.
Will there be tickets available at the door?
While there may be some tickets available at the door, we recommend buying in advance as many events do sell out. The box office will open at 6:30pm the day-of the event. Tickets at the door will be $30 inclusive of all taxes and fees, available for purchase by cash or credit card while supplies last.
What is the refund policy for this event?
Refunds are not available for any Indian Summer Festival events.