Description
With Vikram Vij & chef friends
PRESENTED BY CONCORD PACIFIC
MUSIC SERIES SPONSOR: Creative BC
"One of the top 10 parties to look forward to!" – 24 hrs
"Vibrant and glamorous… the venue was transformed." – Montecristo Magazine
Join one of the city's most sought-after summer parties. Glamorous guests, fine sips, and food conjured up by Vancouver's top culinary artists have made this a sold-out event seven years in a row.
In keeping with the festival's 2018 theme 'Mythmaking', culinary superstar Vikram Vij invites an epic gathering of the city's top chefs to take you on a gastronomic journey around the world. Add to that sonic treats from local and international musicians and arty surprises, and you have a veritable feast of creativity.
Be sure to don your finest (the cameras will be out), and bring an appetite and your dancing shoes. Your ticket includes food and a complimentary beverage.
Our culinary artists represent the following restaurants: Vij's, Blue Water Cafe, Jamjar, Cacao, Tayybeh, ARC at the Fairmont Waterfront, James' Gelato, Cedar Feast House and more!
For venue description and accessibility information: Roundhouse
Hospitality Partners: Vij's, My Shanti, East India Carpets, Volcanic Hills, A Stylish Event, Amiya Events
Indian Summer Festival is made possible thanks to the wonderful support of: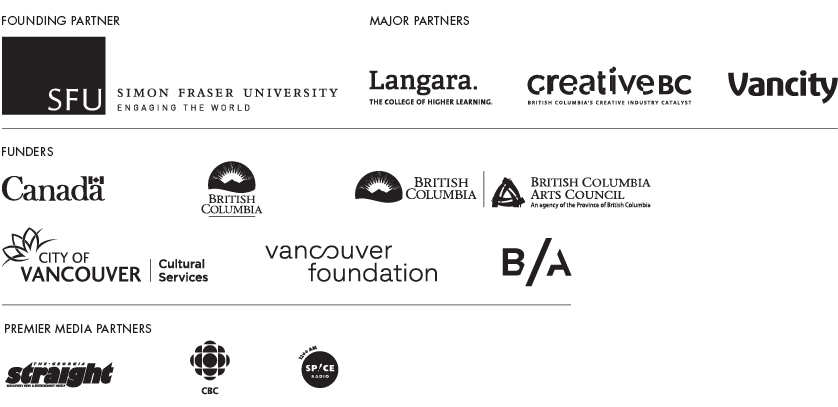 FAQs
Are there services fees on top of the ticket price?
For your convenience our listed ticket prices include GST, service fees, and payment processing fees.
What is the accessibility of this event?
For Radical Access Mapping Project's Full accessibility audit of the Roundhouse see here
Mobility Access: All areas of the Roundhouse are wheelchair and scooter accessible, including all washrooms. The entrances are at street level, with ramps, and while there are elevators in the building our entire event remains on the ground floor.
There is no designated wheelchair accessible parking, but there is street parking around the neighbourhood.
Bathrooms: There is one single stalled, gender neutral, and spacious bathroom, located at the front of the hall. The multi-stall bathrooms will be gendered and trans-inclusive. All washrooms are accessible for wheelchairs and scooters.
Seating Plan: There are a limited amount of seats at this event, as much of the event involves standing, walking, or dancing. We encourage you to notify us if reserving a seat is necessary for you.
Scent: while Indian Summer Festival emails all ticket holders requesting that attendees refrain from wearing scented products at all of our events, we do not enforce this policy, nor does this venue does not have a permanent scent-free policy in place.
If you have any questions, concerns, additions or corrections regarding this information please email engage@indiansummerfest.ca

Are there ID requirements or an age limit to enter the event?
This is an all ages event; however, 2 pieces of ID are required for purchase of alcoholic beverages.
Is there reserved seating?
While some seating will be available, this event is designed for standing, exploring, and socializing.
Will there be tickets available for purchase at the door?
Tickets for this event are available in advance only.
What is the refund policy for this event?
Refunds are not available for any Indian Summer Festival events.