Description
Traditionally available only to select groups of yogis, Surya Kriya is being offered by Sadhguru as a comprehensive spiritual practice that is ideal for the hectic pace of today's world.
'Surya' means sun and 'Kriya' means inner energy process. This gentle, slow paced 21 step process is a way of aligning yourself with the sun, the basic powerhouse for this planet. Surya Kriya activates the solar plexus to raise samat prana or 'solar heat' within the system and balances a person's energies leading to stability of the body and stillness of the mind. This program will be conducted by a hatha yoga teacher trained by Sadhguru.
There is a fee for the program. Please see below for discount types available. Register online to take advantage of the early bird discount (at the links provided below) or contact us for more details. You may also register on-site at the venue.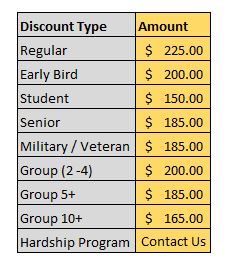 This is a two day program. Please see below for program timing details:
Saturday Nov 2nd: 8:00am- 11:30am
Sunday Nov 3rd: 8:00am- 11:30am
Attendance for both sessions is required.
To register on line please visit: http://www.ishafoundation.org/ca/programs/ and select Surya Kriya Edmonton Nov 2nd and 3rd 2019.
Or Call: (780) 800 - 4401
Or Email: Edmonton@Ishafoundation.org
For more Information please visit: Ishafoundation.org
Important Note:
Due to the nature of this practice, there are some precautions. People who fall under any of the below categories are not eligible to participate at this time
Women who are currently pregnant
Anyone who has had a major open surgery in the last 6 months
Anyone who has had a laparoscopic surgery in the last 6 weeks
FAQs
Are there ID or minimum age requirements to enter the event?
Anyone over the age of 14 may participate.
What are my transportation/parking options for getting to and from the event?
There is free parking available on-site
What can I bring into the event?
A yoga cushion and mat are recommended for your comfort. In addition, participants should arrive on empty stomach conditions. Which means Meals should be had at least 4 hours prior to session start time. Snacks can be had 2 hours prior and beverages other than water can be had hour and a half prior to start time.
How can I contact the organizer with any questions?
Please contact the organizer at the phone number provided above, or you can send an email to edmonton@ishafoundation.org.