Islamic Terrorism: The Psycho-Social Foundation

Wednesday, 21 October 2015 from 5:00 PM to 8:30 PM (EDT)
Event Details
The CIC National Capital Branch presents
ISLAMIC TERRORISM: THE PSYCHO-SOCIAL FOUNDATION

Join Middle East Practitioner-Scholars Michael Bell and John Bell for a discussion of the issues that contribute to the dysfunction of Arab polities, including traditions of colonialism, authoritarianism, the politics of the rentier state, clientalism, corruption and imagined history. Most importantly Arab politics is dominated by ethno-nationalism and ideological belief systems. A new paradigm is urgently required for there to be any hope for conflict resolution. Cultural factors and the innate physical and emotional needs that motivate human behaviour, hitherto neglected, must be addressed.

Michael Bell served on two occasions as our Ambassador to Isreal. A career diplomat, he has also been our Ambassador to Jordan and to Egypt. He was Chair of the International Reconstruction Fund Facility for Iraq, and served as executive assistant for Middle East affairs to the Right Honourable Robert Stanfield.

John Bell is a former Canadian and UN diplomat who has served in Egypt, Gaza and Lebanon. He currently heads the Middle East division of the Toledo Institute based in Madrid, where he spends much of his time engaged in the search for conflict management and resolution, traveling frequently to the region.

Together they are co-authors of the "Jerusalem Old City Initiative" whose findings are to be published this winter in three volumes by Routledge.
Date and Schedule:
Wednesday, October 21, 2015
5:00 pm: Registration, reception and cash bar

6:00 pm: Presentation, discussion

7:30 pm: Dinner 
(optional)
Deadline for registration and cancellation is 5pm on Monday, October 19, 2015.
Please notify us in advance of any special dietary requirements.
Ticket Prices: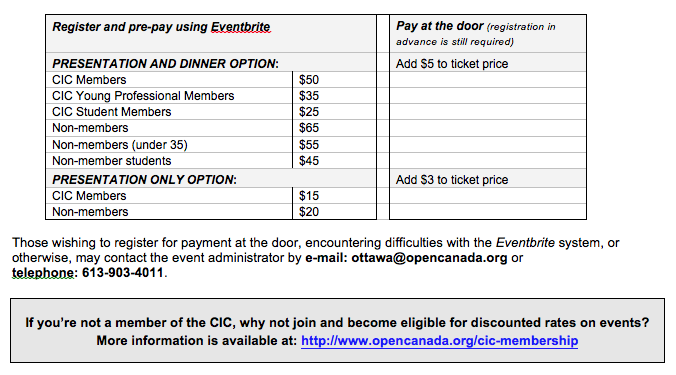 To join, or renew your membership to the CIC please go to:          http://opencanada.org/cic-membership/
_____________________________________________________________________________
Le chapitre de la Capitale nationale du CIC présente
LE TERRORISME ISLAMIQUE: LES ASSISES PSYCHO-SOCIALES
Venez vous joindre à deux chercheurs et spécialistes du Moyen-Orient, Michael Bell et John Bell, pour une discussion sur les questions qui contribuent au dysfonctionnement des États arabes, entre autres le colonialisme, l'autoritarisme, la politique de l'État rentier, le clientélisme, la corruption et l'histoire inventée. Et peut-être avant tout, le fait que la politique arabe est dominée par des doctrines idéologiques et l'ethno-nationalisme. Un nouveau paradigme est urgent pour qu'il y ait un espoir de résolution des conflits. Il faut, entre autres, aborder les facteurs culturels et les besoins physiques et émotionnels innés qui motivent le comportement humain et qui ont jusqu'ici été négligés.

Michael Bell a servi à deux reprises à titre d'ambassadeur du Canada en Israël. Diplomate de carrière, il a également été notre ambassadeur en Jordanie et en Égypte. Il a été président du Fonds international pour la reconstruction de l'Irak et a servi comme adjoint exécutif pour les affaires du Moyen-Orient auprès du très honorable Robert Stanfield.

John Bell est un ancien diplomate canadien à l'ONU, qui a servi en Égypte, à Gaza et au Liban. Il dirige actuellement la division Moyen-Orient de l'Institut Toledo à Madrid, où il passe beaucoup de son temps dans la recherche de la gestion et la résolution des conflits, voyageant fréquemment dans la région.

Ensemble, ils sont co-auteurs de Jerusalem Old City Initiative dont les conclusions seront publiées cet hiver en trois volumes par Routledge.
Date et Heure:
Mercredi 21 octobre 2015
17 h 00: Inscription, réseautage et bar payant 

18 h 00: Présentation et discussion 

19 h 30: Repas (facultatif)
La date limite des inscriptions et des annulations est le lundi 19 octobre 2015.
Veuillez nous avertir si vous avez des exigences diététiques spéciales.

Prix des billets: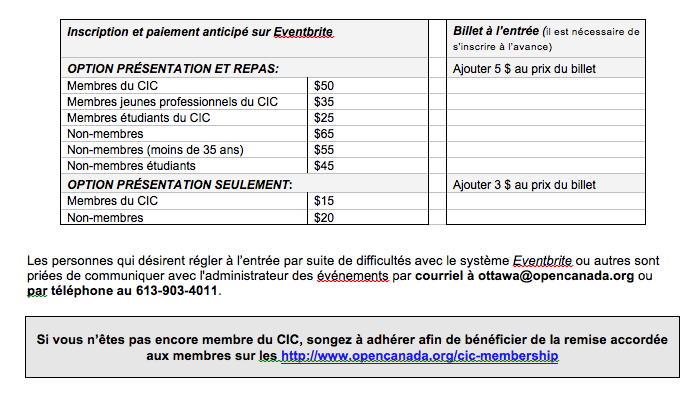 Pour vous abonner ou renouveler votre adhésion au CIC, visitez: http://opencanada.org/cic-membership/

When & Where

Delta Ottawa City Centre, Ballroom A (main floor)
101 Lyon Street
Ottawa, ON K1R 5T9
Canada

Wednesday, 21 October 2015 from 5:00 PM to 8:30 PM (EDT)
Add to my calendar
Organizer
The Canadian International Council (CIC) is an independent, member-based council established to strengthen Canada's role in international affairs. The National Capital Branch is very active with regular speaker dinners, informal speaker events, study and working groups, and occasional conferences. Given its location in Ottawa, it is able to bring together public policy makers, academica, the private sector and private citizens to discuss a wide range of issues related to international affairs.