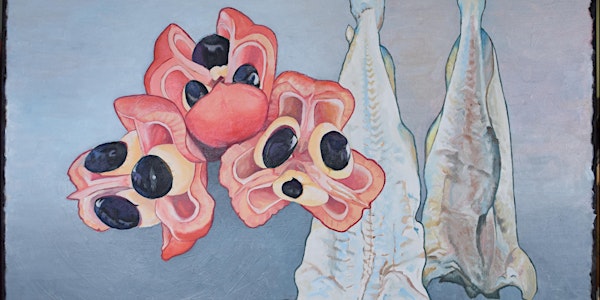 Island Fusions Dinner
By "New-Found-Lands" Art Project with Taste of Jamaica and Eastern Edge Gallery
Date and time
Sun, Sep 11, 2016 6:00 PM - 9:30 PM NDT
Location
Justina Centre 108 Outer Cove Road Logy Bay-Middle Cove-Outer Cove, NL A1K 4E2 Canada
Refund Policy
Contact the organizer to request a refund.
Description
Join us for an evening feast showcasing the shared culinary traditions of Newfoundland and the Caribbean.
Featuring Executive Chef, Kirk Myers, of Taste of Jamaica in Corner Brook, NL.
This special event is held in conjunction with "New-Found-Lands", an art project exploring links between Newfoundland and the Caribbean presented at Eastern Edge Gallery, 72 Harbour Drive. St. John's, NL. Exhibition and programming events take place from September 9 - October 18, 2016.
---
MENU
6:00 - Cocktail reception with hors d'oeuvres and cash bar
6:30 - Dinner
Entrees

Yardie and Newfie Mix up
Pan seared cod topped with ackee, salted cod and callaloo served with oven roasted jerk potatoes.
OR
Rasta Pasta (vegetarian)
Fusilli pasta served with ackee, coconut milk and callaloo
Dessert

Rum Rascal Rhythms
Appleton rum raisin bread pudding with Screech cinnamon foam and freshly picked Newfoundland berries.
Served up with Celtic and Caribbean music including special performance by renowned singer, actor and writer Shelley Hamilton
Ackee

and salt fish is the national dish of Jamaica. The ackee "fruit" originated in West Africa and was brought to the Caribbean in the 1700s.

Callaloo

is a green leafy vegetable originating in West Africa and served throughout the Caribbean.

For Jamaicans

"yard" means home. A "yardie" is a Jamaican.
Artwork: "Ackee and Saltfish", Angela Baker, 2016.
FAQs
Are there ID requirements or an age limit to enter the event?
No age limit. ID for served alcohol.
What are my transport/parking options getting to the event?
Parking is available
Where can I contact the organizer with any questions?
For questions about the Island Fusions dinner please call Adele at 709-689-9777.
For questions about the New-Found-Lands project visit www.easternedge.ca or call the gallery at 709-739-1882 or 709-689-9777 or send email to gallery@easternedge.ca or islandfusions@gmail.com.
About the organizer
This event has been organized in association with "New-Found-Lands" an art project exploring connections between Newfoundland and the Caribbean. Organized and curated by Pamela Edmonds and Bushra Junaid for Eastern Edge Gallery in St. John's. The exhibition and related programming will take place between September 9  and October 18, 2016. 
Located at 33 Broadway, Corner Brook, NL, A Taste of Jamaica Fusion Restaurant offers traditional Jamaican cuisine while combining elements of many other culinary traditions from around the world.
Taste of Jamaica is the brainchild of Raymond Thomas who left his island home of Jamaica to attend university and eventually settle on Newfoundland's west coast as an associate professor with Memorial University.  His idea was to bring a Taste of Jamaica to the city and offer the wonderful, rich flavours and beautiful colours that has made Jamaican food famous.  When travelling from the Deer Lake airport to his new home in Corner Brook, Thomas was told a story by his taxi driver that revealed the long history of trade between the two islands.  Newfoundland would send codfish to Jamaica in return for Jamaican rum.  It was this rum trade that gave rise to Newfoundland's most famous drink – Newfoundland Screech.
Building on this history of trade and the many similarities that existed between some Jamaican and Newfoundland cuisine, Taste of Jamaica was born.  To make his dream come true, Thomas hired Chef Kirk Myers, an award winning Jamaican sous chef. With many hours of hard work and dedication, a Taste of Jamaica has become a reality. Visit www.tasteofjamaica.ca
Eastern Edge, established in 1984, is Newfoundland and Labrador's first artist-run centre for visual arts. Eastern Edge is committed to exhibiting contemporary Canadian and international art, as well as encouraging dedicated and rigorous activity locally. In providing an alternative venue where artists have greater control over how their work is represented, Eastern Edge facilitates critical dialogue concerning issues in contemporary art and society, actively encouraging emerging and established artists whose work speaks to feminist, multicultural, queer, and other diverse perspectives. Eastern Edge aims to provide a supportive space to develop skills, share information and resources, foster community and create a meaningful context for artistic activity. Visit www.easternedge.ca