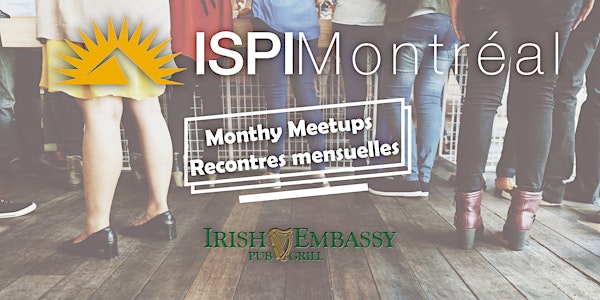 ISPI MONTHLY MEETUPS INVITE / INVITATION: RENCONTRES MENSUELLES
When and where
Location
Irish Embassy Pub & Grill 1234 Rue Bishop Montréal, QC H3G 2E3 Canada
Description
(Le texte français suivra le texte anglais.)
To provide you with ongoing opportunities to meet new colleagues and share information in an informal setting, ISPI Montreal will host monthly networking meetups in 2018. The meetups will be held at the Irish Embassy in downtown Montreal on the third Thursday of each month. The goal is to connect with others involved in performance improvement and related professions. Non-members of ISPI are welcome, as are colleagues and friends.
There will be no admission fees for these events, but food and beverages will be at your own expense.
Stay tuned for further announcements on upcoming 2018 ISPI Montreal events!
Thank you, the ISPI Montreal 2018 Steering Committee.
---
L'ISPI de Montréal organisera des rencontres-réseautage mensuelles en 2018 afin de vous offrir des opportunités régulières de rencontrer de nouveaux collègues et de partager des renseignements dans un cadre informel. Ces rencontres auront lieu au Irish Embassy, dans le centre-ville de Montréal, le troisième jeudi de chaque mois. Nous avons pour objectif de vous mettre en contact avec d'autres professionnels de l'amélioration de la performance et de domaines qui y sont reliés. Les non-membres de l'ISPI sont la bienvenue, ainsi que les collègues et amis.
Il n'y aura pas de frais d'entrée pour ces rencontres, mais la nourriture et les breuvages seront à vos frais.
Restez à l'écoute pour d'autres annonces sur les futurs événements de l'ISPI de Montréal en 2018!
Merci à tous, de la part du Comité d'administration de l'ISPI de Montréal.