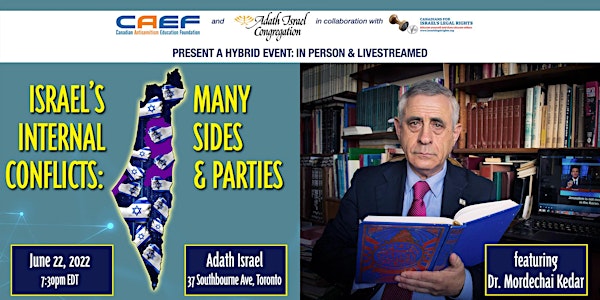 Israel's Internal Conflicts: Many Sides & Parties
Location
Adath Israel Congregation
37 Southbourne Avenue
Toronto, ON M3H 1A4
Canada
Register for the in-person event at Adath Israel Congregation or the online Livestream. Tickets or Livestream link will be emailed to you.
About this event
Featuring Dr. Mordechai Kedar, Israeli scholar of Arab language & culture, and one of Israel's leading figures in understanding the Arab World.
Dr. Kedar will share the troubling results of a recently released study conducted by Habithonistim, which revealed that three-quarters of Arab Israelis believe Jews have no right to sovereignty in the country.
Hear about the survey, actions being undertaken by Habithonistim to educate Israelis about Jewish history and Zionist pride, especially within the educational system. Hear about the internal Israeli conflicts; the Arab population's own conflicts, and how this is impacting relations with the Jewish diaspora.
Learn what diaspora Jews can do, and how to support Israel, educate our own, and improve societal understanding of the truth and Israel's rights.