Event Information
Refund Policy
Refunds up to 30 days before event
Eventbrite's fee is nonrefundable.
ISTQB® Foundation Level- Agile Tester: Knowledge for Testing in the Agile Software Development Projects
About this Event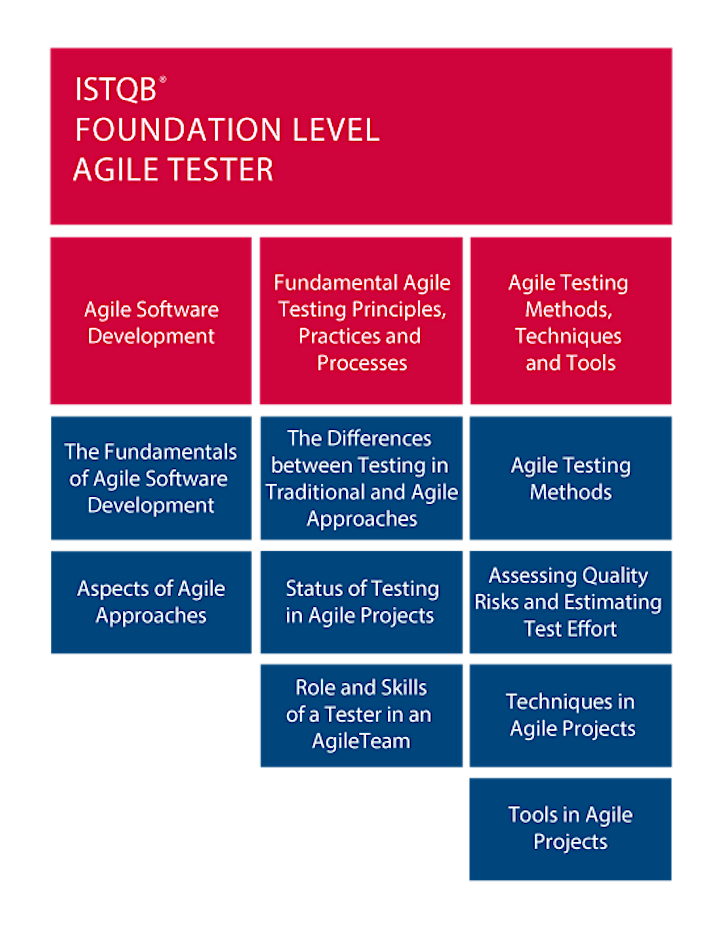 Due to an unprecedented COVID-19 crisis, we are bringing the ISTQB certification training and exam to you as virtual-live and e-learning options; so you can continue to excel in the software testing field. You can take this training and exam from the comfort and safety of your home.
Your Benefit:
You will get introduced to the subject "Test for Agile Software Development" and you are ideally prepared for the certification test leading to the "ISTQB® Certified Tester Foundation Level- Agile Tester".
Purpose:
This virtual training is ideal for testers and test teams preparing for certification or simply interested in enhancing their knowledge of testing in the agile environment. This course provides testers and test managers with an understanding of the fundamentals of testing on agile projects.
The objectives of the course are as follows:
Collaborate in an agile team, being familiar with agile principles and practices
Adapt existing testing experience, knowledge, and best practices to agile projects
Support the agile team in planning test-related activities
Apply relevant test methods and techniques
Assist in test automation
Help business stakeholders define understandable and testable user stories and acceptance criteria
Collaborate and share information with other team members
Work effectively within an agile team and environment
Date And Time
November 23 - 24, 2020 (10 AM - 05 PM EDT)
Virtual-live event training and exam (You can take this training and exam from the comfort and safety of your home)
Cost
$1,299 + tax (2 days of training. ISTQB exam fees ($200 value) is included)
Bonus:
Delegates registering for a training course will receive a bonus official ISTQB certification exam and a copy of Software Testing Glossary (PDF version) for free.
Content:
What changes in agile projects for the testing role according to ISTQB®?
Typical processes, tasks, and artifacts of popular agile approaches
Overview of test methods used in agile projects
Test quadrants and test pyramid
Key skills of the tester in the team
Use and improve user stories from the perspective of the test
Standard tools in agile projects
Embedding quality criteria
Training Materials:
Your training materials include:
ISTQB Agile Tester PowerPoint Slides (PDF)
ISTQB Agile Tester Syllabus & Glossary (PDF)
Virtual Exercise, Workshops, and Solutions
ISTQB Agile Tester Mock Exam
ISTQB Official Certification Exam
Participation Certificate for all delegates
Official ISTQB Certificate for those who pass the exam
Prerequisites:
We recommend to participate and pass the "ISTQB® Certified Tester Foundation Level" course prior to attending.
Certification Exam:
Participants in this course will be automatically registered for the online ISTQB® certification exam proctored by the ISTQB exam provider at no additional cost.
Certification Name = ISTQB® Certified Agile Tester Extension
Duration = 60 Minutes
Questions = 40 multiple choice
Score = 1 point for each correct answer
Pass Mark = 65% (26 or more points)
To learn more about imbus Academy, please visit https://www.imbus.ca/academy/why-imbus-academy
Date and Time
Location
Refund Policy
Refunds up to 30 days before event
Eventbrite's fee is nonrefundable.