IT WAS WRITTEN- A BLACK MAN'S FORUM (PRE-REGISTER ONLINE ONLY, CANNOT GET T...
Description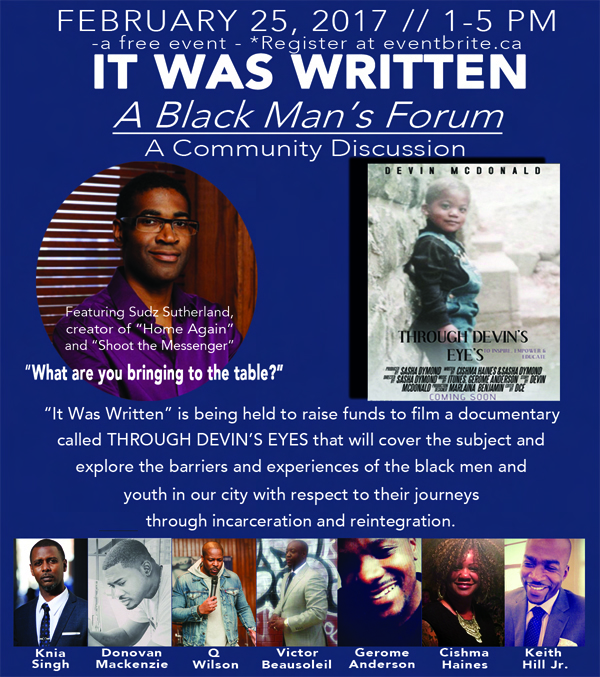 CALLING ORGANIZATION GROUPS, COMMUNITY LEADERS AND FACILITATORS!
IT WAS WRITTEN is a chance for us to come together and create a change with employees of the justice system, organization participants, as well as the general public in attendance. Our focus for the event is to bring awareness to the root issues of our black men in their prime ages being incarcerated and killed in our city.
" There are 70% more black Canadians in federal prison than there were 10 years ago." -Catherine McIntyre (Torontoist article)
There are many facets to these issues including the legal processes and laws that are currently in place. There cannot be a solution made until we as a community come together to enact a change and what is more, this event will have the voices of these men and youth TELLING US and informing us about what THEY need instead of the assumptions we proclaim in the statistics we are privy to.
This event is a discussion with members of our community, members of the justice systems and black men who have been convicted, to arrive at a better understanding of the familiarity of the revolving door of incarceration and the high number of black men that call prison home and who ultimately face early deaths.
In Toronto, the population of African-Canadian adult males, have a higher percentage of re-offending and being incarcerated and placed back into custody after being released from prison. Why?
DCE will be exploring this topic, through a documentary called "Through Devins Eyes", which will be released in 2018 and in the interim we will be introducing this event.
It Was Written stems from the stigma that black men's stories of failure have been written for them in our society, by the media and sadly within our own communities, when infact there are many that have overcame the obstacles of the struggle after being released from a provincial jail or prison.
After being released, that poses as a second chance to be a functioning member of society and resources targeting the needs of black males is something that needs to be focused on. With a system that is recognized to be designed as revolving door. At this event, we will be exploring the root issues that cause gun violence, incarceration, early deaths in black males and employment barriers.
Dymond Concept Entertainment in association with THE REEL APPAREL (fund for youth in film) will be hosting a community discussion that will include the topic of the high percentage of incarceration and reintegration of black males in our city and focusing on this era of mass incarceration.
This will be an event that will feature 3 panelist including black men who have been incarcerated and who have reintergrated successfully and have overcame reoffending due to their circumstances. The panelist will be sharing their journey's and will participate in an open discussion with the community in attendance and will give insight on the resources available or lack thereof and what needs to be placed as a foundation to deter youth from falling into the system of crime.
It is a hushed topic amongst the black community that needs to be addressed, as it does not just affect the person convicted, but their families and communities alike. This event will bring awareness to the members of the justice system that are responsible for assisting the individuals convicted into the reintegration process and bridging the gap of disconnect.
Lets open a dialogue, make solutions and ultimately make a change as we give back to the community and a lucky organization that will benefit from your attendance in creating support for the black men and youth in our community.
It Was Written is being held to raise funds to film a documentary that will cover this subject and explore the barriers and experiences of the black men and youth in our city with respect to their journeys through incarceration and reintegration.
Join us for an afternoon of great food and connection with our community and game changers and more importantly listening to the voices that have been silent in the process of change.
IT WAS WRITTEN will feature Sudz Sutherland, creator and screenwriter of feature film Home Again and CBC series Shoot the Messenger , who will be speaking about the power and importance of film to share a message to the masses.
To learn more about the documentary please click on the documentary link below to view trailer and view the FULL description: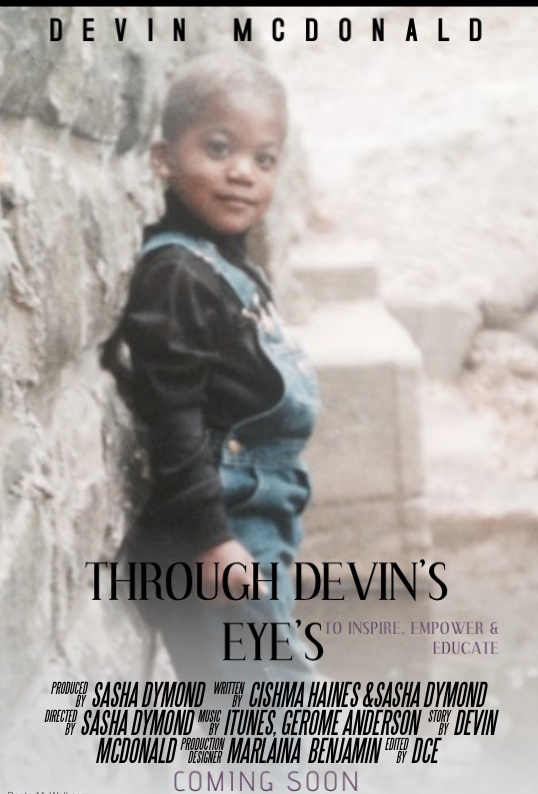 THROUGH DEVINS EYES DOCUMENTARY-TRAILER
IF YOU ARE INTERESTED IN SPONSORING, BEING A VENDOR, CREATING A PARTNERSHIP OR JUST BEING APART OF THE TEAM PLEASE EMAIL SASHA@DYMONDCONCEPTENT.COM
To learn more about the organizer for this event please visit :
http://www.dymondconceptent.com/about-us
****PLEASE NOTE THIS VENUE IS WHEELCHAIR ACCESSIBLE***