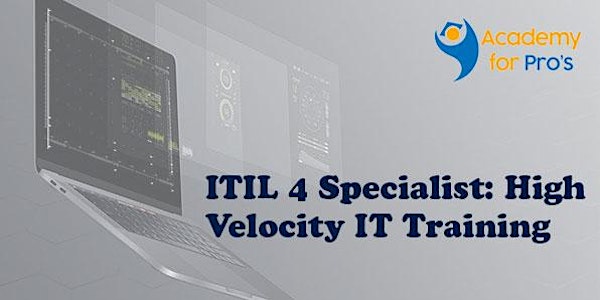 ITIL 4 Specialist: High Velocity IT Training in Hong Kong
Our classroom training provides you the opportunity to interact with instructors and benefit from face-to-face instruction.
When and where
Location
For venue details reach us at: info@academyforpros.com Hong Kong, NT Hong Kong
Refund Policy
Refunds up to 7 days before event
About this event
Certificate: Course Completion Certificate Language: English
Duration: 1 Day Credits: 8
Course Delivery: Classroom/ Virtual Live/ On-Site
Course Description:
The ITIL® 4 Specialist: High-Velocity IT course is based on the ITIL® 4 Specialist: High-Velocity IT candidate syllabus from AXELOS. The course addresses the specifics of digital transformation and helps organizations to evolve towards a convergence of business and technology, or to establish a new digital organization. With the help of ITIL® 4 concepts and terminology, activities, exercises, examples, and the case study included in the course, you will acquire relevant knowledge to pass the ITIL® 4 Specialist: High-Velocity IT certification exam.
The ITIL® 4 Specialist: High-Velocity IT course is designed to enable practitioners to explore the ways in which digital organizations and digital operating models function in high-velocity environments. It will help aspiring organizations to operate in a similar way to successful digitally-native organizations. The course includes the use of working practices such as Agile and Lean, and technical practices and technologies such as Cloud, Automation, and Automatic Testing. The focus of these practices and technologies is on the rapid delivery of products and services to obtain maximum value.
Course Outline:
Module 1: Course Introduction
Module 2: Introduction to High-Velocity IT
Module 3: High-Velocity IT Approaches
Module 4: High-Velocity IT Operating Models
Module 5: ITIL Building Blocks for High-Velocity IT
Module 6: High-Velocity IT Culture
Module 7: Supporting Models and Concepts for Purpose
Module 8: Supporting Models and Concepts for People
Module 9: Supporting Models and Concepts for Progress
Module 10: High-Velocity IT Objectives and Techniques
Module 11: Techniques for Valuable Investments
Module 12: Techniques for Fast Developments
Module 13: Techniques for Resilient Operations
Module 14: Techniques for Co-created Value
Module 15: Techniques for Assured Conformance
Learning Objectives:
At the end of this course, participants will be able to:
Understand concepts regarding the high-velocity nature of the digital enterprise, including the demand it places on IT.
Understand the digital product lifecycle in terms of the ITIL operating model.
Understand the importance of ITIL guiding principles and other fundamental concepts for delivering high-velocity IT.
Know how to contribute to achieving value with digital products.
Target Audience:
It is aimed at IT and service management practitioners who work in organizations that are becoming more digitally enabled. It will help those who are familiar with traditional IT and service management concepts to discuss 'digital' confidently, develop practical competencies, and integrate new concepts, techniques, and technologies into their ways of working. It also includes:
Business Managers
Business Process Owners
IT Consultants
IT Developers
IT Management
IT Support Staff
Service Providers
System Integrators
Note:
However, catering to the demands of busy professionals, our virtual training programs are as effective as face-to-face learning. Reach us at info@academyforpros.com for dates and details of Instructor Led Live Virtual Session.
If you would like to get this course customized and delivered exclusively for your group, we have an On-Site Training Option you can reach us at info@academyforpros.com for more details about on-site or corporate training.
Offers:
Groups of 3 people 10% Discount
Groups of 5 people 15% Discount
Groups of 10 people 20% Discount