About this Event
BUFFET LUNCH AND REFRESHMENTS INCLUDED
Life-changing workshops offered by experts in the fields of mental health, life-skills, human behaviour, conflict prevention, and mindfulness.
Workshop sessions are on a first come first served basis
3 breakout sessions / A total of 12 workshops available
Amazing door prizes
8:30 AM - Registration and coffee
This is a relaxing day. Feel free to dress comfortably!
Free Parking
THANKS TO ALL OUR SPONSORS:
DKG International, McGill Faculty of Education, LBPSB Continuing Education, Shannon Walsh, Hotel Novotel Montréal Airport, Dr Sima Goel chiropractor - Decarie Square Chiropratic Clinic, Montreal Aviation Museum, L.B. Foster - Mike Yared, Strategic Learning Center - David Shipper, Spiria - Patrick Bergeron, Kelly Norman - Wellness Advocate, Top Tutorat - Caroline Chang, Doss Communication - Sylvie Bastien-Doss, Envisions Educations - Dianea Carroll-Phillips, Science Yourself - Dianea Carroll-Phillips, Laughing Institute - Sylvie Dagenais-Douville, Anne-Marie Quesnel, Ardis Root, Arbonne - Tracy Woodward, Julie Phenix graphist designer, Clinique Curel Medi - Akute Azu, Spira - Patrick Bergeron.
Programme and schedule available here:
https://www.dkgquebec.com/uploads/1/2/9/2/12920278/booklet_jan9.pdf
https://www.dkgquebec.com/its-my-day-event.html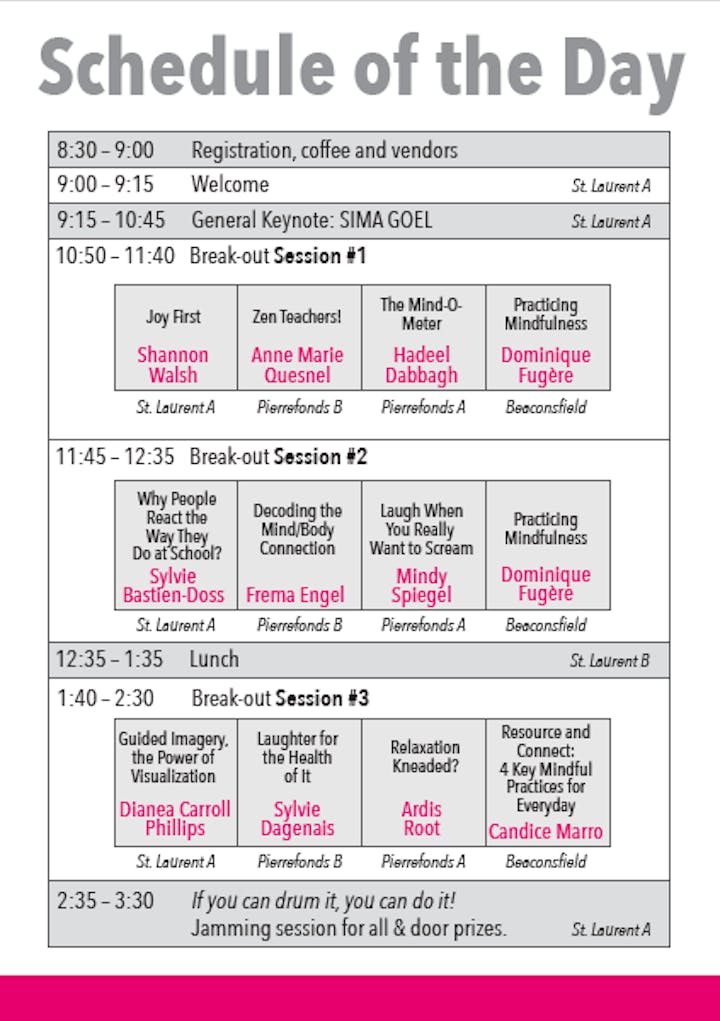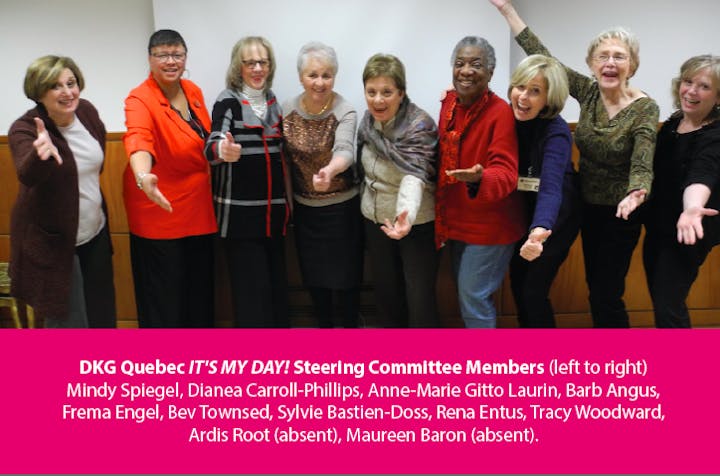 DKG Quebec, a Canadian provincial organization of DKG International is proud to support teachers through the IT'S MY DAY Wellness Conference for Teachers.
DKG provides funds for scholarships, grants and awards for teachers and student-teachers, and promotes excellence in education, as well as professional and personal growth of women educators.
To learn more about us! www.dkgquebec.com