It's not too late ....... Lieutenant-Navy Kay van Akker "A Tribute to Women...
Description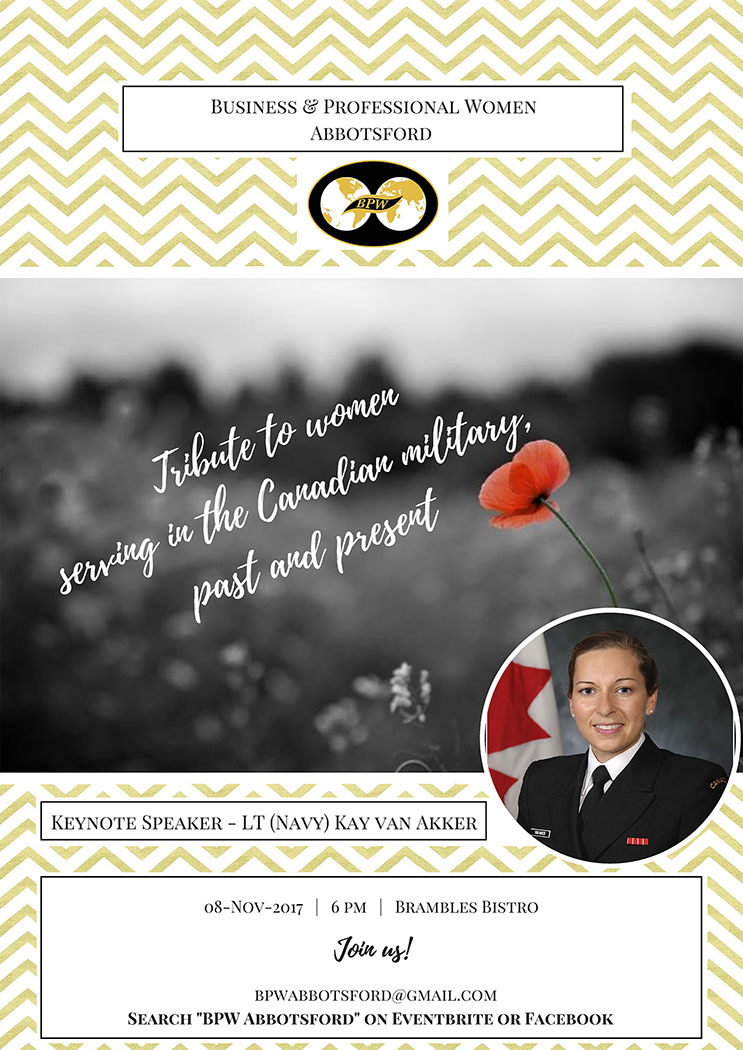 Born to an Army father and an Air Force mother, Lieutenant-Navy Kay van Akker joined Canada's Naval Reserve in HMCS Malahat in 2001 as a Maritime Surface Officer while studying at the University of Victoria. Sixteen years later, Kay continues to serve with the Naval Reserve, having found it to be a flexible, dynamic and meaningful career.
Lt(N) van Akker returned to HMCS Malahat, her Naval Reserve Division (NRD), in 2004. Flexing back-and-forth between full time and part-time roles, Kay served as Training Officer, Combat Officer, Port Security Officer and Recruiting Officer. In 2007 came a career highlight, when Kay competed in the Military World Games in Mumbai, India, representing Canada in the sailing competition against teams from 24 other nations.
Kay now serves as Second-in-Command of the Naval Security Team, and recently led a group on a global-outreach trip to Fiji, where she facilitated demonstrations of Force Protection to the Republic of Fiji Navy (RFN), and guided a workshop designed to help the RFN with their initiative to integrate women into their navy.
Attendees to the event will gain a better understanding of:
Women in the Canadian Armed Forces and the Royal Canadian Navy. Past and present: A tribute to Remembrance Week
After the Trail Blazers: The importance of this generation (and beyond) of women in non-traditional roles
Women Leaders in the Military:

The successes and challenges we encounter and how we're addressing them
Female leadership styles and how they contribute to the mission
Logistics and operations - building, supporting and leading teams

The Role of Civilian Businesses and Leaders in the Canadian Armed Forces:

Employing Reservists - the Canadian Forces Liaison Counsel (CFLC) and how it supports civilian employers as well as part-time serving members of the military
Captains of Industry as liaisons to the military
Sign up now and get the early bird pricing.
Forward this to someone you think might be interested in this topic.
BPW ABBOTSFORD EXECUTIVE