Location
The Ritchie Mill
#302, 10171 Saskatchewan Dr NW
Edmonton, AB T6E 4R5
Canada
Refund policy
Refunds up to 7 days before event
Description
Being a powerful leader who others respect and want to follow requires a special set of skills around communication and influence.
As soon as we are in a leadership role, we have the power to make or break somebody's day with just a word, a look, or our tone of voice, or even damage their career through our unconscious bias or lack of coaching ability.
People are watching how we show up, how we treat them and others, and how we create a safe environment for people to thrive in. Leadership comes with great responsibility, requiring intelligence, compassion and accountability.
It's a tough gig … and if you are reading this, then I bet you are completely up for the challenge!
In this essential leadership Masterclass you will:
Explore your leadership impact so you can gain real awareness around how you build and unwittingly destroy trust

Discover the neuroscience of giving and receiving feedback so that you can approach all your leadership conversations with integrity and compassion

Recognize your unconscious biases so that you can be more choiceful about how you manage them and their impacts on others

Learn how to respect your own unique leadership capabilities so that you can step into your leadership power with integrity and passion to truly engage and influence those you lead
Not Just A Workshop
I want to help you build your leadership capability in a powerful way so this Masterclass is not just a workshop. You will also undertake an emotional intelligence-based personal assessment AND receive a follow-up coaching call with me to build your leadership development plan.
Here is the Masterclass process: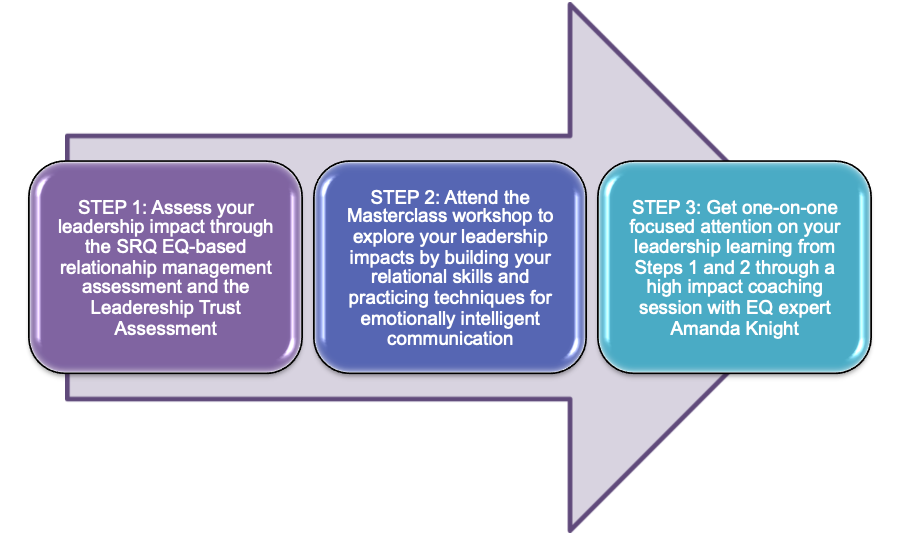 On the workshop you will:
explore the five key aspects of the leadership privilege that impact your ability to be truly openminded and compassionate, and to have an unbiased and equitable perspective.

view leadership through the relational lens to significantly advance your ability to influence and build true engagement and empowerment with your team and your stakeholders.

practice techniques for emotionally intelligent communication so that you remain balanced, compassionate, and emotionally robust when involved in challenging or delicate discussions.
The SRQ emotional intelligence-based assessment and Leadership Trust Assessment will help you identify:
your limiting perceptions, blind spots, and self-sabotaging attitudes and behaviours that drive judgment

your use of power in relationship dynamics (including tendency to rescue, criticize, rebel or comply)

your levels of confidence in others, and levels of own self-confidence

the impact of your current level of self esteem in handling stress, change and conflict

how you recognize and manage your emotions and emotional responses to challenging people and situations
During the follow-up coaching session we will:
take a deeper look at your SRQ emotional intelligence-based profile for further insights into how you can become more compassionate and present

specifically discuss the nuances of your leadership that you wish to enhance, change or adapt

build a practical action plan to develop your recognition of how you use your leadership power, and to build your non-judgment capability so you become a leader who builds engagement and high performance in others