Description
Be You. It's Awesome talk series presents:
It's OK to not be OK
You worked hard through school to land your dream job, and now you are in your 20s or 30s, your friends and family see you as successful.
So why doesn't it feel like it?
And why do you dread the sound of your alarm each morning?
It's a shock when you learn that the job you expected to love doing, turns out to be demotivating and not enjoyable, and just doesn't feel right for you. It can effect you emotionally and mentally.
What do you do;

Stay in the hope it will get better?
Look for something new?
Go back to the drawing board and start over, because maybe you got this choice wrong?
If you are facing any of these questions, you are not alone.
Join us to meet others who are in the same place as you, and hear from our panel who will share stories of how they found work they love.
You will take away:
A sense of relief that you really are not alone and you CAN find the answers.

Practical actions from our panel to use in finding what you really would love to do, and to feel successful.

The confidence to share your story with others.
Introducing the panel: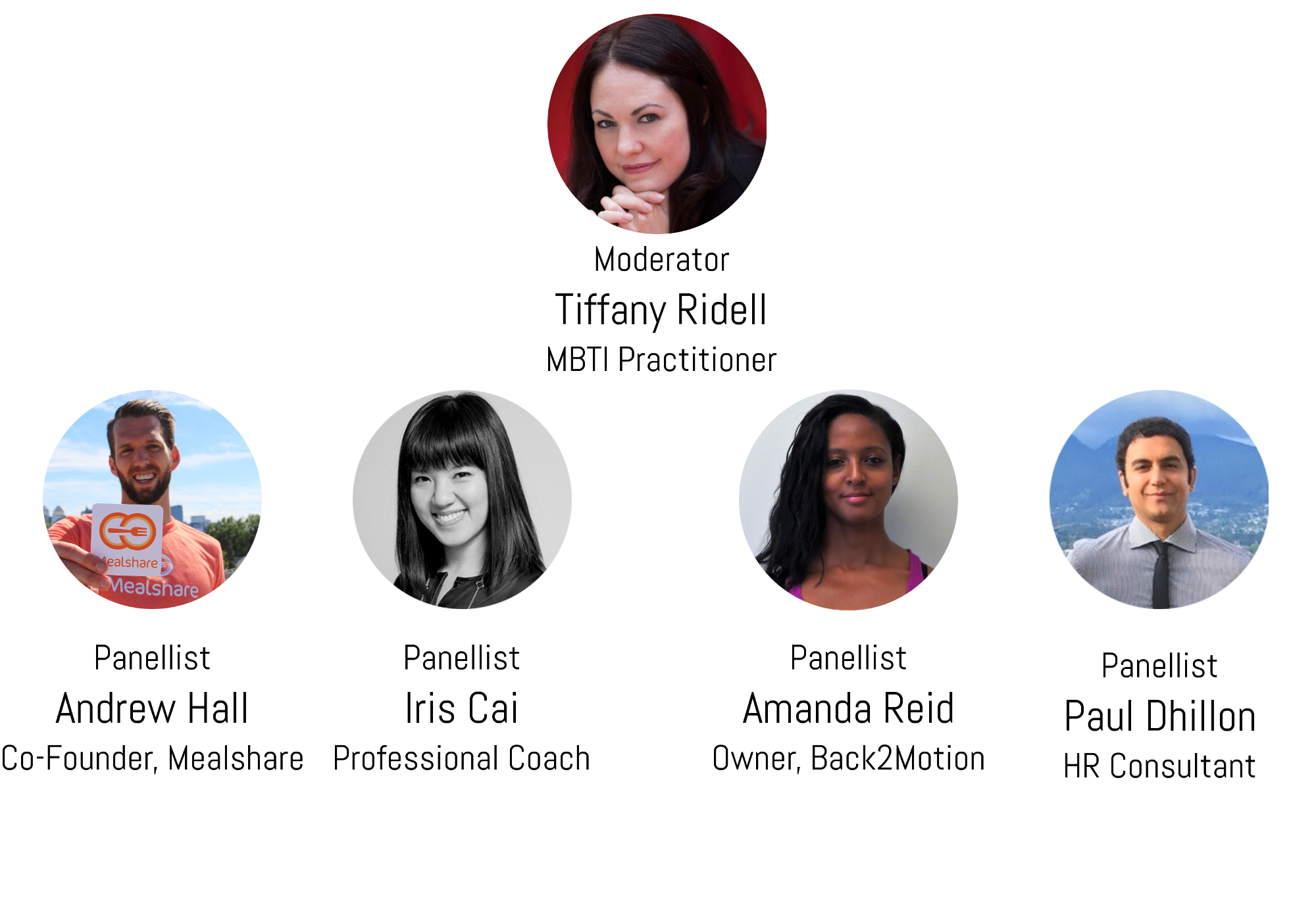 Andrew Hall, Co-founder of Mealshare
Andrew Hall is a passionate young social entrepreneur and is the Co-Founder of Mealshare. Mealshare partners with restaurants, and places their logo next to a few menu items. When a customer orders a 'Mealshare Item,' they get their meal, just like normal. And, they also provide one meal to someone in need! Buy one, give one. In under four years, Mealshare has grown to over 400 partner restaurants across the country, and served more than one million meals to youth in need. Andrew's been recognized as a Top 30 Under 30 winner by both BC Business and Corporate Knights magazine, and Mealshare was honored to be Social Enterprise of the Year by Techvibes in 2018.
Andrew received a BCom degree from the University of Victoria. After graduating, he worked in consulting with Deloitte for a few years before following his passion to create a business that makes a difference. When Andrew's not growing Mealshare he's running, hiking, travelling, exploring personal development, or trying something new.
https://www.mealshare.ca
Iris Cai, Professional Coach and Founder of Bolt Careers
Iris is a professional coach and workshop facilitator passionate about helping professionals and entrepreneurs create a life and career that matter. As the founder of Bolt Careers, Iris Cai Coaching, and the Career Coach for University of British Columbia's MBA program, Iris has over 10 years of experience in various marketing and people development roles in organizations such as TELUS and Right Management. Iris's diverse corporate experience and aptitude in understanding product personas and marketing strategies have successfully enabled her to help hundreds of her clients discover the true essence of their humanities, chart their career paths and craft and market their personal brands.
https://boltcareers.com
Amanda Reid, Owner & Exercise Therapist at Back2Motion
Amanda is a Professional Electrical Engineer who left her six figure salary to pursue a career that she is more passionate about. As an engineer Amanda has worked and/or lived in UK, Dubai, Qatar, Azerbaijan, New York and Vancouver Canada. With all her travels and large construction projects she was still searching for fulfilment. Amanda founded Back2Motion after she became injured after participating in a long distance race. After unsuccessful treatments by many physicians, she found herself on a waiting list for foot surgery. She came across a natural healing modality that saved her from surgery and she regained her abilities and life back. Amanda decided to train in this technique and started her business following the dramatic impact it had on her life. Amanda has also since decided to manage her own finances and is currently learning about investment trading. www.back2motion.ca
Paul Dhillon, high energy HR consultant
Paul is dedicated to providing companies with innovative total reward strategies and programs. As a trusted advisor for clients in the areas of compensation, benefits and HR technology, Paul's goal is to maximize the return on investment and deliver value for companies and their people. He aims to do this through his personal mission of "people first". Paul has almost 15 years of corporate HR experience working with companies in the retail, energy and mining sectors. At the beginning of 2018 he developed his own social problem-solving methodology in order to put an idea he had into action and make it a reality- the choice to transition away from the corporate world to become a consultant. This year he is personally and professionally focusing on two key areas that are important to him: mental wellness and value creation. Paul holds a BBA from Simon Fraser University. He is a chartered professional in human resources (CPHR) and a certified compensation professional (CCP). www.linkedin.com/in/PaulDhillonTotalRewards
Moderator: Tiffany Riddell, MBTI Practitioner who provides unique learning experiences
Originally from Calgary, Alberta, Tiffany is a certified MBTI® Step I and II Assessment Practitioner. She also holds a BA in History from Athabasca University (at Mount Royal College) and an Intercontinental MEd in Adult Learning and Global Change from the University of British Columbia and universities in Sweden, South Africa, and Australia.
Tiffany has years of experience working with young adults, facilitating growth and learning in university students and other individuals.
https://tiffanyriddell.com
---
This event is part of the Be You. It's Awesome talk series, hosted by Be Inspired Vancouver.
At each talk, featured speakers give 90-minutes of interactive talks on a specific topic, curated to inspire and give take-away actions and strategies that you can put into practice on the SkyTrain home.
The talks are designed to inspire ideas, and share strategies so you can put those ideas into action simply and effectively.
Join us to invest in your personal development, your intellectual growth and to be inspired to live your life - your way.
---
FAQs
What's the refund policy?
Tickets are non-refundable. Tickets can however be transferred to another person, or be transferred to a future Be Inspired Vancouver event. Please contact info@beinspiredvancouver.ca directly where this is required.
Do I have to bring my printed ticket to the event?
You do not need your printed ticket. We just need your name on arrival.
Why should I attend?
Meet new people who share your passion for learning, and who are truly like-minded.

Learn something new and leave inspired and with strategies to take action for yourself

It is AMAZING value for money.
Can I come on my own?
Absolutely Yes!
The majority of talk attendees come as singles. Say yes to stepping out of your comfort zone for a few hours and the possibilities are endless. I (Sam – your host) have been a solo talk attendee in both London and Vancouver, so I understand the apprehension.These talks are designed to be fun, open and welcoming, and I'd love to meet you. When you arrive, just let me know and I'll be happy to introduce you to someone who's in the same boat.
Am I expected to speak?
The Be You. It's Awesome talks are organised, so the speakers are 'featured' speakers. The talks are interactive meaning you can ask questions and give your thoughts (a huge plus for most attendees), but there is no pressure for an attendee to share their story unless they volunteer it. You will never be put on the spot – just share if you feel like it. And if not feel free to sit back and listen :), just don't forget your notbook and pen.
---
Inspiration should have no barriers - Together we support Kids Up Front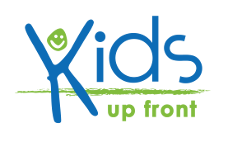 Together we can be bigger than a series of talks. For every ticket sold, we donate 10% of the ticket value to Kids Up Front to inspire our future generations.
4 tickets sold = 1 inspiring night for a child in need
Kids Up Front provide inspirational experiences to children-in-need through the distribution of donated tickets to arts, recreation and sporting events. Learn More