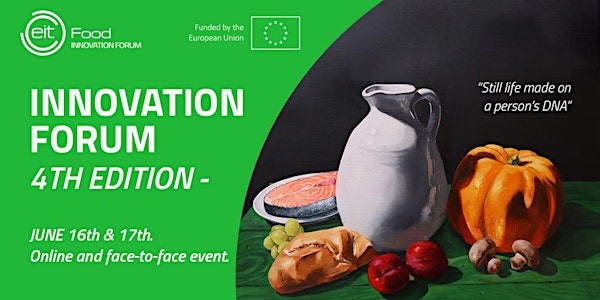 IV Food Innovation Forum
The EIT Food Innovation Forum is EIT Food's annual event focused on targeted nutrition. [Included streaming 100% Online]
When and where
Location
BEC (BILBAO EXHIBITION CENTRE) Calle el Retiro 48903 Baracaldo Spain
About this event
***Spanish below***
Don't miss the date!
The EIT Food Innovation Forum is EIT Food's annual event focused on the agrifood industry. Since its first edition in 2018, it has evolved and this year in its fourth edition will position itself stronger than ever as a key event for professionals around the world agri-food company especially interested in healthy nutrition.
Registrations will be shared with Food4Future for covid security reasons and to facilitate the entry and movement at the exhibition. Food 4 Future World Summit will take place from June 15th to 17th 2021 in BEC! to showcase the latest technologies, solutions and automation systems that are transforming the food industry.
The best opportunity to do networking and matchmaking! Find people with complementary skills and create the great future projects. Register for Conversation Starter here.
Check the agenda.
Check partner's agenda.
-----------------------------------------------------------------------------
¡No te pierdas la cita!
El Foro de Innovación Alimentaria del EIT es el evento anual de EIT Food centrado en la industria agroalimentaria. Desde su primera edición en 2018, ha evolucionado y este año en su cuarta edición se posicionará más fuerte que nunca como un evento clave para profesionales de todo el mundo agroalimentarios especialmente interesados en una nutrición saludable.
Las inscripciones se compartirán con Food4Future por razones de seguridad covid y para facilitar la entrada y el movimiento en la feria. La Cumbre Mundial Food 4 Future se celebrará del 15 al 17 de junio de 2021 en BEC! para mostrar las últimas tecnologías, soluciones y sistemas de automatización que están transformando la industria alimentaria.
¡La mejor oportunidad para hacer networking y matchmaking! Encuentra a personas con habilidades complementarias y sigue diseñando tus proyectos de futuro. Regístrate para Conversation Starter aquí.
Consulta la agenda.
Consulta la agenda para socios.