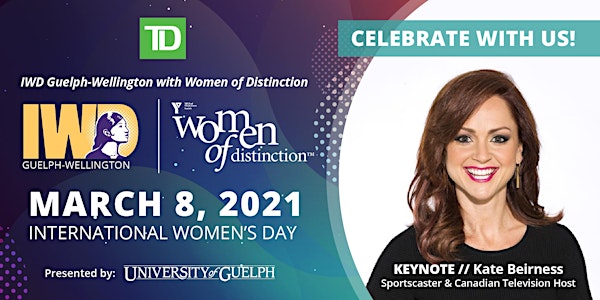 IWD Guelph-Wellington 2021
We invite you to join us on March 8, 2021 for our 9th annual celebration of International Women's Day in Guelph and Wellington County!
Refund Policy
Contact the organizer to request a refund.
Eventbrite's fee is nonrefundable.
About this event
International Women's Day Guelph-Wellington and Women of Distinction
(Formerly Ignite. Empower. Innovate.)
March 8, 2021
"Doors Open": 5:30pm // Main event: 6:00pm - 8:00pm
For our 9th year, the IWD Guelph-Wellington (IWDGW) partners are excited to honour women of all ages and stages at our annual celebration of International Women's Day.
2021 brings some exciting changes for IWD Guelph-Wellington. For the first time, IWDGW is taking the celebration online! We are also pleased to announce that this year we have partnered with the YMCA of Three Rivers' Women of Distinction, a longstanding local event honouring remarkable women in our community.
This year's virtual IWDGW will feature a celebration of the 2021 Women of Distinction honorees, an online marketplace promoting women entrepreneurs and a keynote address from our guest speaker Ms. Kate Beirness, sportscaster & Canadian television host.
As has been our practice in previous years, proceeds from this event go toward supporting women in Guelph-Wellington. We are pleased to announce proceeds will be directed to the YMCA of Three Rivers Women's programming: Safe Sisters, Teenage Parent's Program (TAPPS) & Encore.
Agenda
5:30pm Optional Networking & Vendor Marketplace Open
6:00pm Greetings
6:15pm YMCA of Three Rivers' Women of Distinction Honourees
6:40pm Break
7:00pm Keynote Speaker
7:35pm Q & A
7:45pm-8:00pm Closing Remarks
8:00pm-8:30pm Optional Networking
A recording of the event will be available for 48 hours after the event.
** Interested in being a vendor in our Online Marketplace for women entrepreneurs? Apply Now **
OUR SPEAKER: KATE BEIRNESS
Thank you to our Speaker Sponsor: Sleeman Breweries Ltd.
Born and raised in Port Perry, Ontario, Ms. Beirness was a standout high school basketball player who dreamed of one day playing professionally in the Women's National Basketball Association. A serious knee injury in Grade 12 curtailed those plans, prompting her to switch gears and pursue a career in sports broadcasting.
She took an unconventional path to her dream job. Her first position in the business was at Sportsnet, booking travel and completing expenses for on-air talent. She took the advice of her boss who encouraged her to leave and get experience in front of the camera. She left Sportsnet to volunteer at Rogers TV Durham while completing a Bachelor of Commerce degree (class of 2009). While on campus she also spent time as a volunteer announcer with Riot Radio, the on-campus closed-circuit radio station.
Ms. Beirness' fun, high-energy and confident TV presence has made her one of TSNs most-recognized personalities. At the end of 2009, she joined The Sports Network (TSN), and in 2014, she was paired with Natasha Staniszewski, forming the networks first female anchor team on TSNs flagship program SportsCentre.
Kate is currently the sideline reporter for all Toronto Raptors broadcasts on TSN and the host of Thursday Night Football. She has hosted many marquee sports events, including TSN Olympic Morning in 2012, CBC Olympic hockey in PyeongChang in 2018, NCAA March Madness, the NBA Draft, and co-hosted the Grey Cup.
She is a frequent community speaker, emcee and event host. She joined a Canadian Armed Forces tour to visit troops in Kuwait, France and Ukraine. In 2016, Ms. Beirness jumped at the chance to present at the university's Global Alumni event, speaking passionately about breaking down barriers for women, and the one-on-one learning experiences she received while at university.
She founded and hosted the first HER MARK Summit in July 2017, a gathering of speakers, athletes and educational panels for 100 hand-picked Toronto-area female high school students. Sponsored by sports industry powerhouses TSN, Maple Leaf Sports and Entertainment, and Under Armour, HER MARK aims to empower the next generation of female leaders.
PROCEEDS - SUPPORTING WOMEN OF ALL AGES & STAGES
Your sponsorship fosters community spirit and aligns your organization with Y values of – respect, responsibility, well-being, inclusiveness, and stewardship.
This celebration not only recognizes incredible community contributions, but also raises funds to support the YMCA of Three Rivers programs in Guelph for girls and women at all stages of life including:
• Safe Sisters – An after school/evening program for grade 7 and grade 8 girls that fosters a sense of self worth, self awareness, confidence and life skills. Each week students are engaged in activities that drive positive growth and change, and provide coping mechanisms and youth mental health supports in under privileged neighborhood's in our own community.
• TEENAGE PARENTS PROGRAM (TAPPS) – Connects pregnant and parenting teens in a safe and nonjudgmental space to share their experiences and work on parenting and life skills. TAPPs also provides these parents with a hot meal, community resources, speakers and presenters who teach valuable life skills and provide essentials for infants such as formula, diapers, and clothing.
• ENCORE – Supports women with breast cancer in a relaxation and exercise program. Encore provides a supportive environment where the women can share their experiences, concerns, and connect with one another.
ABOUT THE YMCA OF THREE RIVERS' WOMEN OF DISTINCTION
Women of Distinction is an event that honours and celebrates inspirational women that are making an impact in our community. As a consistent event in Guelph for the past 25 years, we have celebrated remarkable female leaders and contributors to the betterment of our city and its citizens. Women are nominated and selected as honourees in several categories where their leadership, innovation, and community contributions are recognized. Though we are scaling back to celebrate in a virtual capacity in 2021, Women of Distinction is excited to partner with Innovation Guelph on this fabulous International Women's Day celebration. This isn't simply and event – it's a season. A season of reflection, recognition, celebration, and community.