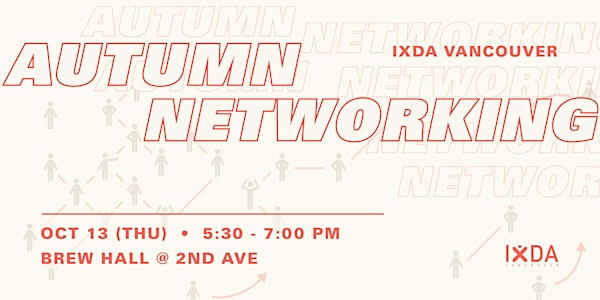 IxDA Vancouver Autumn Networking
Join our networking event to celebrate Autumn and our first face-to-face meetup to meet new people!
When and where
Location
BREWHALL 97 East 2nd Avenue Vancouver, BC V5T 1B3 Canada
About this event
Come join IxDA Vancouver's FIRST face-to-face networking event in almost 2 years!
Now that everyone is more comfortable meeting people and come out to mingle, let's get back to the real world to meet some warm bodies! You might meet your potential employer or UX industry professional who can intro you to the right people. Don't underestimate the power of networking!
Bring friends in UX and anyone who wants to mingle with local Vancouverites in the UX industry. We can also get dinner afterwards too if people prefer. Let's get off of Zoom and chat away!
Disclaimer:
All participants are responsible for their own health-safety and well-being during the event. IxDA Vancouver will do its best to ensure that participants safely attend a variety of venues. However, IxDA Vancouver cannot mitigate every eventuality and as such, IxDA Vancouver events involve an element of possible risk from other external factors which cannot be fully controlled. All participants acknowledge associated risks and attend our events of their own accord.
Communicable Disease Health & Safety Practices:
• Participants should assess themselves for symptoms of common cold, influenza, COVID-19, or other infectious respiratory disease before attending our event.
• Participants who are ill, including participants of essential service providers, should not attend our events. If you are unsure, you should self-isolate or the local public health unit.
• All participants are encouraged to practice proper hand hygiene and respiratory etiquette by covering coughs or sneezes.
Who are we?
From the former organizers of IxDA Hong Kong since 2006, passionate to continue doing what we love in VanCity. We are very excited to announce that IxDA Vancouver is back! In this new chapter, a new group of volunteers will help organize monthly events for the UX community in the Greater Vancouver area!
Who is this for?
👩🏽‍💻 UX Designers in the Vancouver area
How much is the ticket?
No ticket fee, just get your drinks at the cash bar!