Description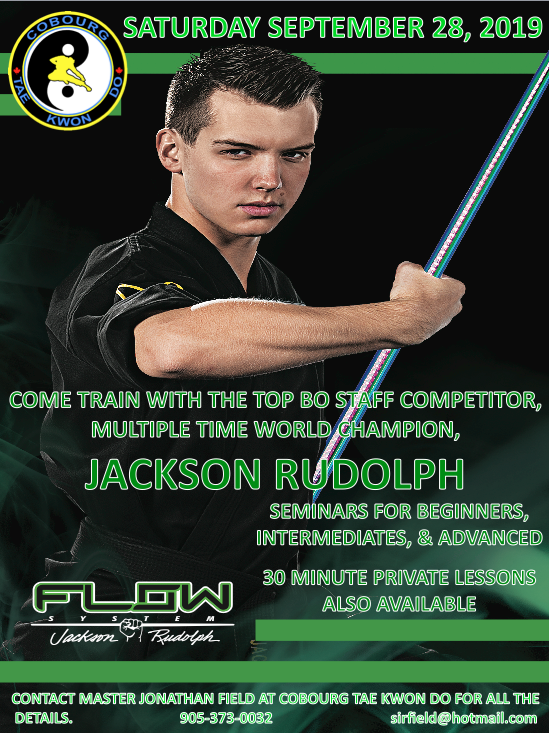 Multiple Time World Champion Jackson Rudolph will be conducting Creative Bo Staff Seminars on Saturday September 28th at Cobourg Tae Kwon Do. Hosted by Master Jonathan Field.
The seminars will cover everything a student needs to be succesful with the Bo Staff. Jackson Rudolph who is the founder of The Flow System will work with the students on their basics to advance bo staff techniques as well as bo manipulations and tricks.
There will be four one hour semianrs divided into skill level. Not necessarily belt rank level but your level of skill with the bo staff. As well as there will be 30 minute private lessons also available for one on one with Jackson Rudolph.
10am - Beginner Level
11am - Intermediate Level
12pm - Lunch
12:30pm - Advanced
1:30pm - Instructors
2:45pm - Private Lessons begin
If you are new to the Bo Staff, I recommend you sign up for the beginner seminar. If you have been doing the bo for a little while I would strongly recommend signing up for the Beg and Int seminars. If you are more of a intermediate level with bo staff you could sign up for the int and adv level seminars. Advanced level can do either just the advanced semianr or also sign up for the instructor's seminar as well.
Anyone of any level is more than welcome to sign up for a 30 minute private lesson as well.
See prices and discounts below.
If you are not sure what to sign up for, please call me at 905-373-0032 or email at sirfield@hotmail.com and we will get you set up with the correct semianrs for you.
HERE'S A VIDEO OF JACKSON COMPETE AT THE 2018 BATTLE OF ATLANTA https://youtu.be/QsGk6Qjmv78
EXAMPLE VIDEO OF JACKSON TEACHING A STRIKING COMBO https://youtu.be/ChoZe6fw8tM
- REMEMBER, THESE SEMINARS ARE FOR ALL LEVELS. FROM THE VERY ADVANCED TO THE STUDENT WHO HAS NEVER PICKED UP A BO STAFF BEFORE. DON'T BE SHY, GIVE IT A TRY! -