Description
It is the Ottawa School of Art's pleasure to invite you to our Annual Fundraising Party J'ADART: For the Love of Art! Guided by our motto, "Teaching Art to Everyone", we are planning an amazing evening and look forward to your attendence.

In this, our 12th year of hosting our annual fundraiser, J'ADART has a target of raising $15,000 towards our Community Outreach Program and our Bursary Program. As a non-for-profit charity, Ottawa School of Art provides barrier-free art classes to hundreds of children & teens each year through our Community Outreach Program, taught by professional artists. OSA partners with 9 community centres and houses to make this program come to life. Through our Bursary Programs we enrich the lives of many people who can't afford to send their children to art classes or summer camps or take courses for themselves. This program has been in place for over 30 years. Each year OSA provides bursaries ranging from $150- $300, mostly to children and youth. Please join us and demonstrate a commitment to art education and culture.

"I'm really good at drawing and everyone asks me 'How do you do that?' and I say I practice."
- Asher (age 6, participating in the OSA Community Outreach Program at our partners Winthrop Community House)
J'ADART will take place on Wednesday, May 3th, 2017 from 6-9pm at the Irving Greenberg Theatre Centre (GCTC) and this year's event is made extra special with the celebration of Canada's 150th, the theme for the evening is Dress as your favourite Canadian artist or artwork! With interactive arts activities, a fantastic life-drawing session, live art, live music, an amazing silent auction and delicious hors d'oeuvres & drinks created by Thyme & Again Creative Catering, this evening promises to be most exciting!
As we continue to organize this unique event, we would like to keep you informed and answer any questions you may have. Please feel free to contact our Resource Coordinator, Malika Welsh, at development@artottawa.ca, or call 613-241-7471, extension 31. Tickets will also be avaiable for sale at both campuses (ByWard Market and Orleans).
We hope to see you can help us celebrate the impact OSA has on our community and the work we will continue to do for the city of Ottawa.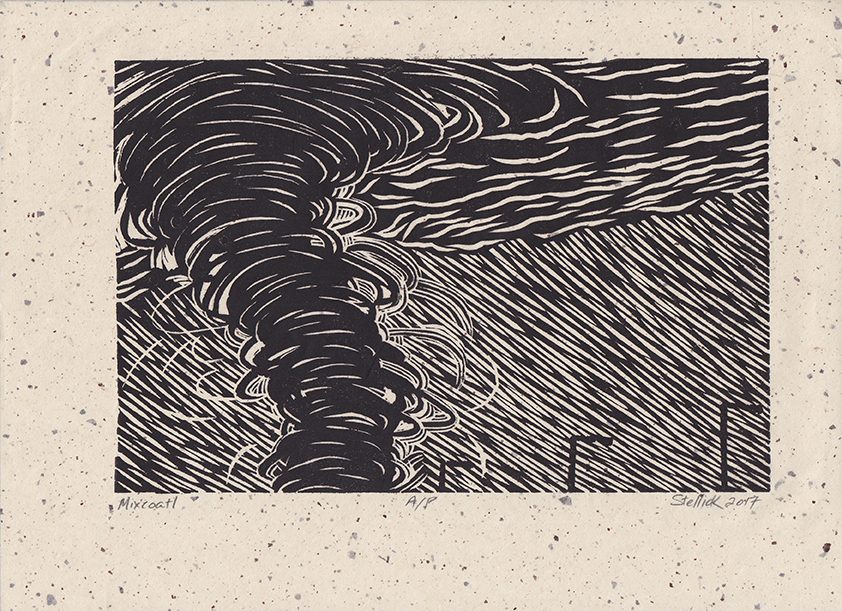 Jeff Stellick, Mixcoatl, linocut, 2017

Bonjour!
L'École d'art d'Ottawa (ÉAO) a le plaisir de vous inviter à sa collecte de fonds annuelle intitulée J'ADART : pour l'amour de l'art. À l'occasion de cette soirée exceptionnelle, nous serions honorés de vous compter parmi nos invités.
Organisée pour une 12e année consécutive, la collecte de fonds annuelle de l'ÉAO a cette année pour objectif d'amasser 15 000 $ tout en faisant la promotion de son programme de bourses et programme communautaire pour enfants et adolescents. En tant qu'école d'art à but non lucratif, l'ÉAO facilite l'accès à des cours d'art, offerts par des artistes et enseignants professionnels, à des centaines d'étudiants chaque année grâce à son programme de bourses et programme communautaire. Afin de permettre la viabilité de ce programme, l'ÉAO collabore avec neuf différents centres et maisons communautaires. Grâce à notre programme de bourses, nous enrichissons la vie de nombreuses personnes qui ne peuvent pas se permettre d'envoyer leurs enfants à des cours d'art ou des camps d'été ou de suivre des cours pour eux-mêmes. Ce programme existe depuis plus de 30 ans. Chaque année, l'ÉAO offre des bourses allant de 150 $ à 300 $, principalement aux enfants et aux jeunes. Joignez-vous à nous et faites preuve d'engagement envers l'éducation artistique et la culture à Ottawa.
« Je suis vraiment bon en dessin et tout le monde me demande "Comment fais-tu?" Et je réponds "Je pratique!" ».
— Asher (6 ans, participant au programme communautaire de l'ÉAO à l'un de nos sites partenaires, la Winthrop Community House)
Notre événement aura lieu le mercredi 3 mai de 18 h à 21 h, au Irving Greenberg Theatre Centre (GCTC). L'édition de cette année souligne tout spécialement le 150e anniversaire du Canada avec comme suggestion pour la soirée de s'habiller à l'image de son artiste canadien ou œuvre canadienne préféré! Avec des activités artistiques interactives, une séance de dessin d'après modèle vivant, de l'art et de la musique en direct, un incroyable encan silencieux et de délicieux hors-d'œuvre et boissons conçus pour l'occasion par Thyme & Again Creative Catering, cette soirée promet d'être des plus excitantes! Les billets réguliers sont 50 $ et les billets « Pour l'amour de l'art » sont 100 $ (accompagnés d'une estampe en édition spéciale de l'artiste et directeur général de l'ÉAO Jeff Stellick). Il s'agit d'une occasion unique de côtoyer des mécènes distingués et dévoués aux arts ainsi que des membres de l'École d'art d'Ottawa.
Veuillez confirmer votre présence à cet événement en communiquant avec : Malika Welsh, coordonnatrice du développement, development@artottawa.ca 613-241-7471 poste 31 ou visitez notre site web : http://artottawa.ca/jadart/.
Au plaisir de vous y retrouver!