The Jamaica Association's Brilliant Minds program is expanding ! It is not only a homework club / tutoring session program any more.
About this event
We will be hosting a first in a series of webinars focusing on Vocational Training and we are very pleased to have with us for our very first session, Mr. Glen Spence, owner of M.T.L Bagel. Check out his website: https://www.mtlbagel.ca/
He will speak about his business, how he got started, the skill sets needed to make delicious bagels and for sure, looking for you to send him your resume. He wants to train as many people as possible in this exciting business and venture. Have your resumes ready and send your resume directly to Mr. Spence at glenspence1@hotmail.com or drop by the store located at 5452 Westminister, Cote St. Luc, H4X 2A5, (514) 918-8194.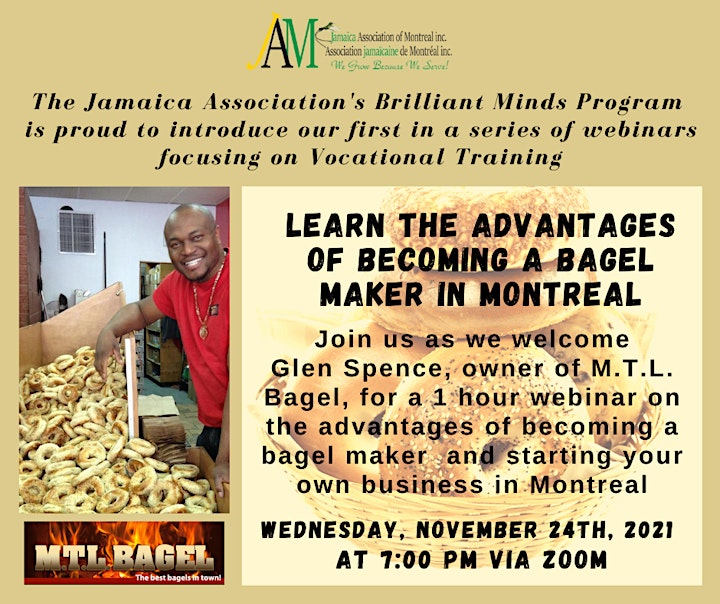 Organizer of Jamaica Association Brilliant Minds Vocational Training Event
The Jamaica Association of Montreal Inc. is committed to the social, political, economic, educational and cultural integration of the Jamaican Community and by extension the Black Community within Montreal, and the Province of Quebec.

The organization is involved in assessing the needs of the community and providing the service through either a referral system or direct access.

We are undertaking short and long term plans to meet the objective of a more community service based organization. Primarily we exist to serve the members of the Jamaican Community in Quebec, working in conjunction with other community organizations and the Government as a whole.