JAMAICA IN JANUARY: Sun Worshippers. Beach Lovers. Homesick Jamaicans. COVID-Weary People Everywhere. JAMAICA IS CALLING!
About this Event
Rafting down the Rio Grande River. Romantic Sunsets. Silky White Sand Beaches. Clear Turquoise Waters. Come in from the Cold and bask in the warm island vibe of the first annual JAMAICA IN JANUARY. Sit back, relax, and chill out to the beat of this foodie forward event.
JAMAICA IN JANUARY Is a 2-part celebration of the delicious vibes of Jamaica.
1. A 60-Minute FREE VIRTUAL EVENT, 5 to 6 p.m. (Eastern time) featuring:
Miss Tania Lou (channeling the spirit of the late Jamaican folklorist Louise Bennett) sharing Jamaican stories, poems, songs and riddles to wrap you in the irie vibe of the island.
Liquor and food pairing session and food demo by chef Noel Cunningham of Cuisine by Noel.
Hot button topic. Does sugar belong in rice and peas?
Nuff giveaways. Yes, ah true, you can win prizes. (See below)
CAN'T MAKE THE EVENT? REGISTER; DONATE; PURCHASE ONE OF THE JAMAICA IN A BOX TICKET; OR THE POSTCARDS AND WE WILL SEND YOU A RECORDING TO WATCH ANYTIME AT YOUR LEISURE.
2. JAMAICA IN A BOX:
Available in the Greater Toronto Area (GTA), Canada, Only. Order scrumptious Jamaican food to enjoy before, during or after the Virtual Event. (Deadline to order Jamaica in a Box is 6 p.m., Thursday, January 28)
>>There are 6 choices of hot meal<<
Jamaican Stew Peas 3 Ways:
1: Stew Peas the ol' fashion way with Pig's Tail;
2: Stew Peas with Salt Beef
3: Ital (Vegetarian) Stew Peas
(By Chef Noel Cunningham, Cuisine by Noel)
4. Jerk Chicken
5. Curry Chicken
6. Curry Goat.
(By Taste of Jamaica fi Real, Donna Gardner)
>> There are 2 choices of Dessert/Pastry<<
Jamaican Rum Cake Cheesecake
Coconut Mango Pound Cake
(from Edible Bliss11, Amanda Hamer)
>> There are 2 choices of Beverage<<
Ginger Beer
Sorrel
(from MontRose, Rosalind Daniel)
Each JAMAICA IN A BOX that includes a Hot Meal (Stew Peas, Jerk Chicken, Curry Chicken or Curry Goat) also includes a choice of Dessert (Rum Cake Cheesecake OR Mango Coconut Pound Cake and a choice of Beverage (Ginger Beer OR Sorrel). A package of Jamaican Coconut Drops* and 6 Jamaican postcards (created for this event) are automatically included in the Hot Meal Box. (Click on Tickets for details and to order.)
* Jamaican Coconut Drops: A crunchy, delicious snack made from fresh coconut. Eat it straight out of the bag; spread it over ice cream; or add to a cheese board.
>> Ways to Enjoy the Deliciousness <<
Chill out with the playlist of Jamaican music (from ska to Bob and Koffee) before, during and/or after the Virtual Event. (Soon come.)
FREE Registration Ticket gets you into the Virtual Event AND all the fun.
JAMAICA IN A BOX Ticket gets you into the Virtual Event. (Option available until January 27 @ 6pm. Curbside Pick Up on January 31 between 2:30 and 4 p.m. at 300 College Street a block west of Spadina, Toronto.)
JAMAICA IN JANUARY POSTCARD Ticket gets you into the Virtual Event. (Pick up with your Jamaica in a Box or have them mailed to you. Photos below)
DONATION Ticket gets you into the Virtual Event. Proceeds to support future JAMAICA IN A BOX and JAMAICA IN JANUARY events.
>> GIVEAWAYS AND HOW TO WIN <<
You could WIN an EPIC PRIZE PACKAGE valued at $150. Make an order of $50 or more and you'll be automatically entered in the DRAW to WIN the Epic Prize Package, which includes:
A DON'T WORRY EAT PATTY (unisex) T-Shirt
A DON'T WORRY EAT PATTY Messenger Bag
Bottle of Breadfruit Vodka by Mutiny Island Vodka
Copy of 10 Reasons Why Jamaicans Run So Fast Cookbook published by JamaicanEats magazine.
>> Winner announced at the end of the Virtual Event, January 31 <<
BUT, you could also get lucky before and during the Virtual Event.
Jamaican Ludo Board. Purchase any Jamaica in a Box Ticket and you'll be entered in a DRAW to win this old-time Jamaican board game. (Winner will be selected before the pick up time of 2:30 to 4 on January 31 and the lucky person will be able to walk away with his/her Jamaica in a Box plus the Ludo Board.)
During the Virtual Event, give the correct answers* to Jamaican riddles (riggle mi dis, riggle mi dat...) and/or trivia questions posed by Miss Tania Lou and you could win:
A DON'T WORRY EAT HAPPY Tranzip Tote Bag.
Package of Breadfruit Flour along with the edition of JamaicanEats magazine that features breadfruit flour.
DON'T WORRY EAT PATTY OR 10 Reasons Why Jamaicans Run So Fast (unisex) t-shirt .
* You'll type your answer (live) in the chat section during the Virtual Event.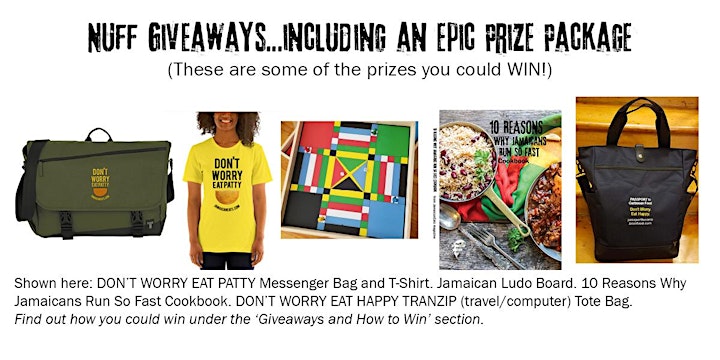 JAMAICA IN JANUARY is brought to you by JamaicanEats magazine, which has been serving up a taste of Jamaica and the Caribbean for over 14 years.
Meet the people serving up the deliciousness on January:
Editor and publisher of JamaicanEats magazine Grace Cameron is a journalist and organizer of Caribbean-themed food events in the Toronto area.
Donald Hochoy, JamaicanEats representative, is a former Jamaican restaurateur and cable television food presenter in Toronto.
Host of the Virtual Event, Tania Hernandez describes herself as a 'bawn' Jamaican. Tania is a cultural performer of dance, songs, stories, theatrical comedy and poems, and is a gospel, jazz and R&B vocalist. She has performed at festival, concerts and other events in Ontario and British Columbia, Canada.
Chef Noel Cunningham, Cuisine by Noel, is an award-winning Jamaican-Canadian chef and cookbook author who enjoys making traditional Jamaican dishes as well as international food.
Donna Gardner operates Taste of Jamaica - Fi Real! catering in the Toronto area. Donna has been dishing out tasty, authentic Jamaican food for more than 20 years.
Amanda Hamer's, Edible Bliss 11, passion for creating unique cuisine started when she was little. The Torontonian has appeared on the Food Network's Donut ShowDown and Toronto's Breakfast Television.
Rosalind Daniel often has a line of people awating her arrival at food events across Toronto and southern Ontario. Known for her MontRose brand ginger beer and sorrel drinks.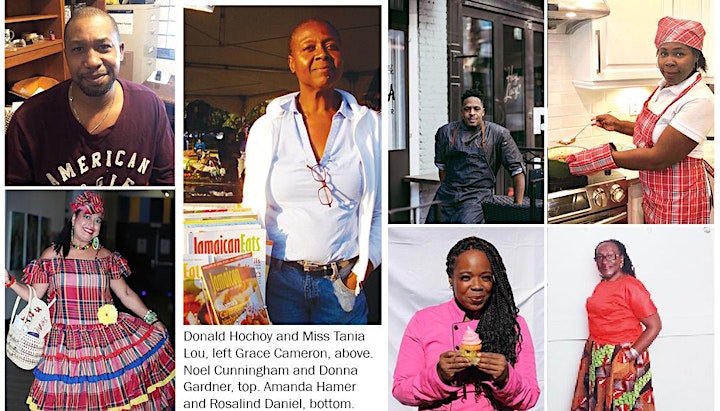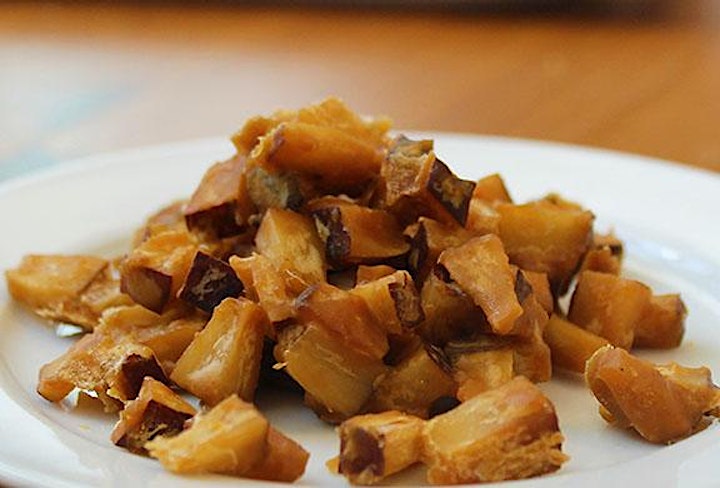 Date and Time
Location
Refund Policy