About this Event
In this season of a global pandemic and protest against anti-Black racism, we need a space for courage building and hope sharing as we mark 58 years of Jamaica's independence from British colonial rule.
Maya Angelou said in her famous poem,
And Still I Rise:
You may write me down in history
With your bitter, twisted lies,
You may trod me in the very dirt
But still, like dust, I'll rise.
Up from a past that's rooted in pain
I rise
I'm a black ocean, leaping and wide,
Welling and swelling I bear in the tide.
Leaving behind nights of terror and fear
I rise
Words from Jamaica's national anthem says, "justice, truth, be ours forever."
As Jamaicans mark 58 years of independence in this unprecedented year of a global pandemic of COVID19 and mass protest against anti-black racism, these prophetic words might be pointing us towards a new future that we will rise to embrace. This might be a future where we are renewed in our understanding and commitment to pursue a deeper justice and truth for ourselves, our neighbors and God. What does this future look like? How might we be equip for this new future in this time of pandemic and protest?
This will be an evening of inspirational music, words and prayer. Our 4 speakers represent different voices we need to hear to encourage us to rise again.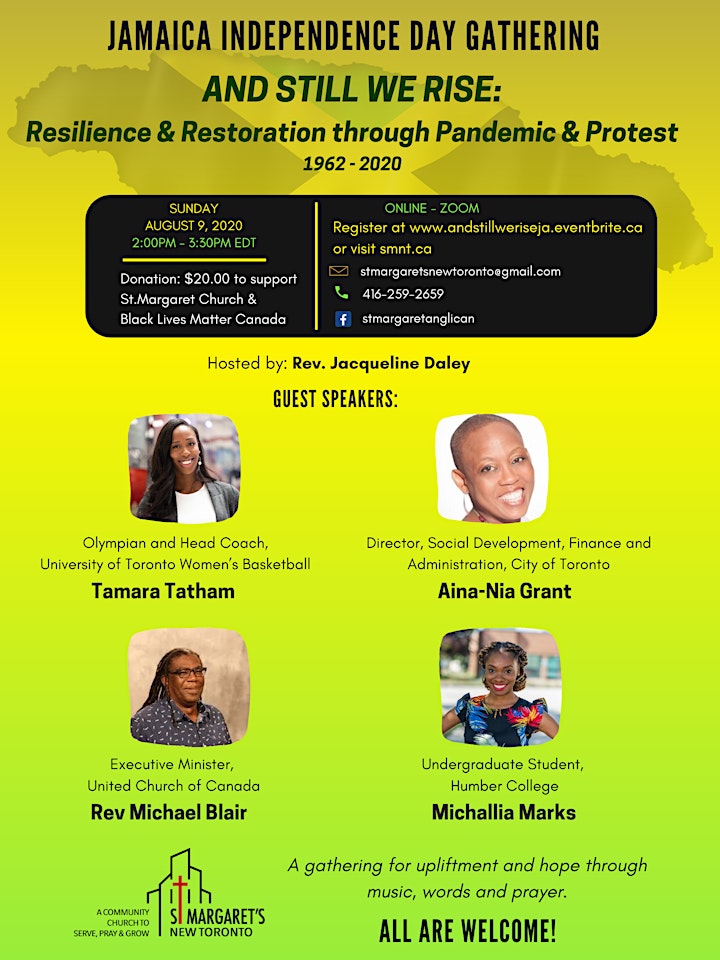 Date and Time
Location
Refund Policy