Description
The Jamaica Summit of Excellence in Leadership & Business is part of a network of national events facilitated around the world for executives in the political, corporate, religious, and academic arenas to exchange their knowledge under the tutelage of global experts in critical areas of leadership and strategic management.
It is organized by the International School of Greatness with headquarters in Toronto, Canada, in partnership with other reputable organizations in and outside Jamaica. The vision is to provide a unique experience that is intellectually stimulating and spiritually therapeutic for national and international delegates to discuss national and global issues while being equipped with strategic and spiritual concepts to achieve exponential growth.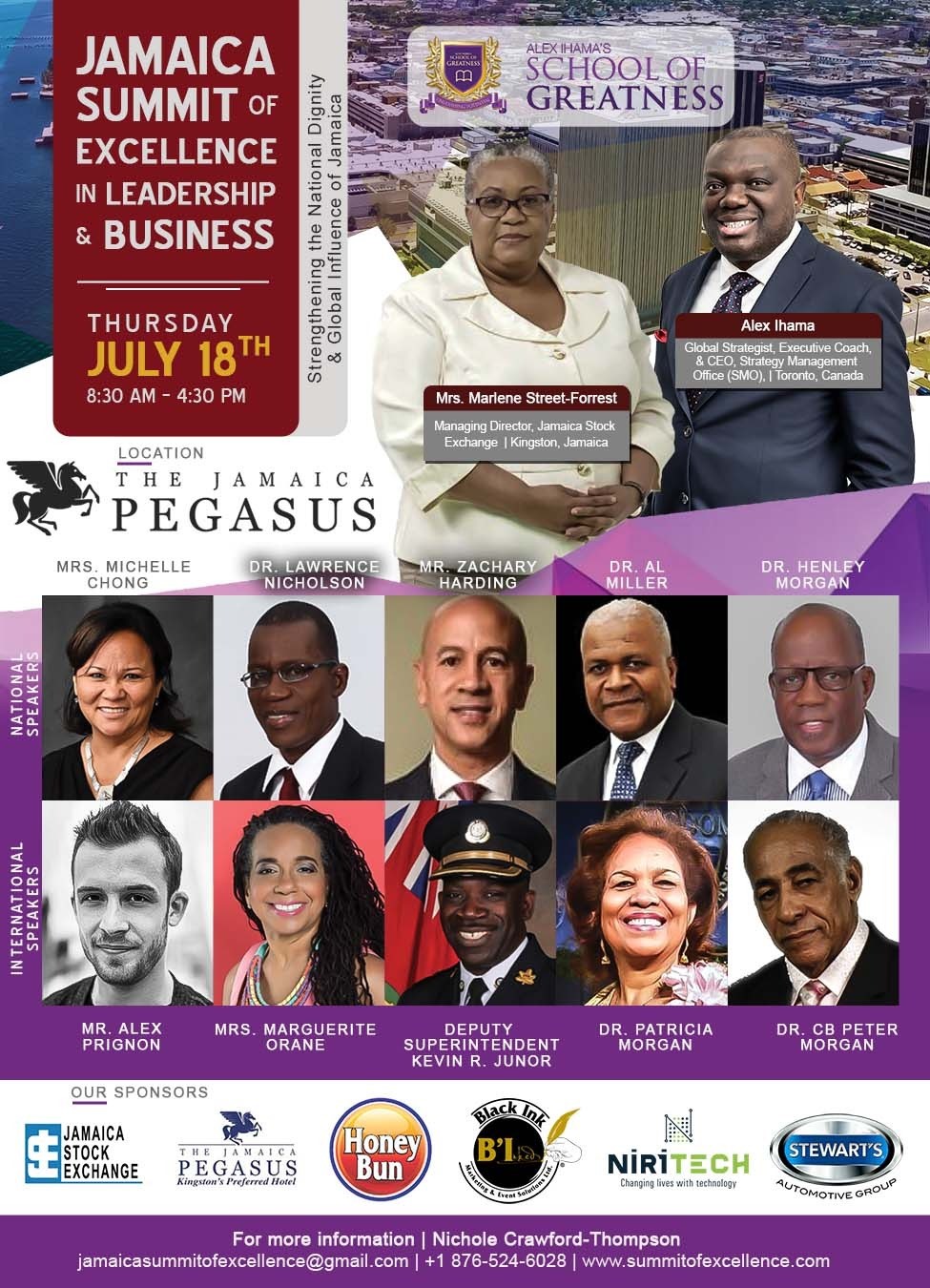 The Jamaica Summit of Excellence in Leadership & Business is bound to bring together leaders in the different power blocs that are responsible for the transformation of a nation.
For far too long we have left the transformation of Jamaica in the hands of just the politicians, but this movement will compel the corporate executives to join forces with the clergy and academicians to take their rightful places in the corridors of national power.
Participants will be inspired to discover their purpose in life, develop a set of moral values to guide their actions and decisions and make every effort to maximize their potential.
Strategic relationships will be formed between the most unlikely group of people for they will discover similarities in mindset. Talents will be discovered, and skills will be sharpened.
What is more, participants will be educated on rare, practical knowledge and wisdom, encouraged to keep pressing on fulfill their purpose and achieve their vision and empowered to become exceptional in leadership and entrepreneurship.
This is a summit that even the exclusive line up of speakers will be educated, encouraged and empowered by one another. They, too, will be challenged to be more, do more, have more and give more. They will be inspired to always foster a spiritual mindset and be strategic in their approach.
Since the Summit of Excellence is known for an atmosphere that is intellectually stimulating and spiritually therapeutic, national and international delegates are bound to leave the venue with an unquenchable desire to change the world.
For more information, advertising, media, and sponsorship opportunities, or to pay by cheque or bank transfer, please contact Nichole Crawford-Thopmson on +1 876 524-6028 or +1 876 613-6368. You may also email summitofexcellence@gmail.com or visit www.summitofexcellence.com.